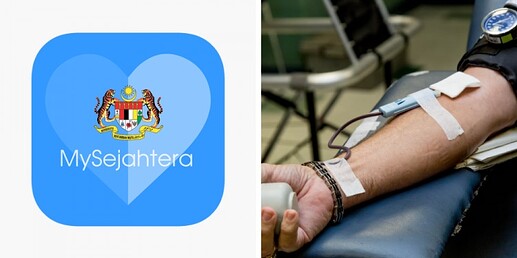 MySejahtera announced that they have added digital blood donor cards to the app. However, it's only available for those who donated at specific blood collection centers for now.
"You asked for it, and you will receive it! Update your MySejahtera app to the latest version to view your digital Blood Donor Card," wrote MySejahtera on Twitter.
You might not be able to see a blood donor card in your MySejahtera app (iOS, Android) even if you have donated blood. It could be due to the fact that you did not donate blood in the 22 blood collection centres that use the BBISv2 system—which is a system used to save data of blood donors in Malaysia. Below are the centres that use the system:
Pusat Darah Negara.
Hospital Tengku Ampuan Rahimah, Klang, Selangor.
Hospital Sultanah Aminah, Johor Bharu
Hospital Sultanah Nora Ismail, Batu Pahat, Johor.
Hospital Sultanah Bahiyah, Alor Setar, Kedah.
Hospital Raja Perempuan Zainab II, Kelantan.
Hospital Raja Permaisuri Bainun, Ipoh, Perak.
Hospital Taiping, Perak.
Hospital Sultanah Nur Zahirah, Kuala Terengganu.
Hospital Seberang Jaya, Pulau Pinang.
Hospital Pulau Pinang.
Hospital Miri, Sarawak
Hospital Sultan Haji Ahmad Shah, Temerloh, Pahang.
Hospital Tengku Ampuan Afzan, Kuantan, Pahang.
Hospital Seri Manjung, Perak.
Hospital Umum Sarawak.
Hospital Sibu, Sarawak.
Hospital Tawau, Sabah.
Hospital Queen Elizabeth II, Sabah.
Hospital Sandakan, Sabah.
Hospital Melaka.
Hospital Tuanku Ja'afar Seremban, Negeri Sembilan.
So, does this mean that your donation doesn't count if the centre you registered for isn't on the list? Sure, donations not documented in BBISV2 at this moment are not included in the donation count. But more centres will be listed in the future.
MySejahtera wrote in their FAQs that if you have registered with the listed centres, you could proceed to the nearest blood bank (from the above choices) for verification in order to claim your privilege—if you haven't received your card yet. After that, it's recommended that you update the MySejahtera app to its newest version and refresh your profile page.
And if you have just recently donated blood, your donation count will only be updated every 24 hours. So, it's best to wait after a day to refresh your page.
In the graphics made by MySejahtera, the card will include your name, ID number, blood type, and even times donated. It will also give information about your privilege level.
Blood donors have privileges depending on how many times you've donated blood. If you donated once, you're entitled to free outpatient treatment and medical treatment for 4 months, and if you've donated over 50 times, you get free outpatient treatment and first-class medical treatment and wards for 10 years and second-class wards of life after 10 years.
The privileges will show up in the blood donor card on the MySejahtera app. You can find more information through their FAQ page here.
Source: SoyaCincau