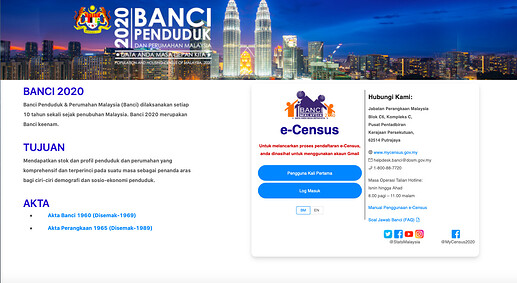 Population and Housing Census of Malaysia 2020 is a census project that will be carried out in all housing and residential areas throughout Malaysia in the year 2020. 2020 census is the sixth census carried out since the formation of Malaysia in 1963.
In line with the technological advancements and lifestyle changes of Malaysians, online census information collection is being introduced through the Census Portal and mobile applications. To complete the e-Census form, a postcard containing the e-Census guide and link on the Census Portal will be sent to your residence. In addition, mobile applications are also introduced for enumerators to fill out your information during interviews using a tablet or smartphone.
Objective
The objective of implementing the census is to compile the total coverage and profile of the population, households and living quarters in Malaysia with a wide range of demographic and socio-economic characteristics to the smallest area. The latest and comprehensive census data will be a key and important source for the preparation of the National Development Plan.
Person that need to fill in
All persons including non-citizens who had stayed or intended in Malaysia for 6 months or more in the year 2020. This includes:

Babies born ON OR BEFORE Census Day and STILL LIVING on Census Day (7 July 2020).
Those who passed away ON OR AFTER Census Day (7 July 2020).
Malaysian's population commuting across the Malaysia border (e.g. Singapore and Thailand) for work or study but maintaining usual residence within Malaysia.
Malaysian's population who were overseas as tourist, on short term study (less than 6 months) or attending conferences/ seminars or on business.
Expatriates and other foreign workers as well as their family members staying in Malaysia.
Foreign visitors and students staying in Malaysia.
Foreign military and diplomatic personnel and their families staying in Malaysia.
Persons without permanent homes (e.g. homeless).
Where to fill in
There are total of 9 sections (108 questions) in the form:
Section A : Respondent Details
Section B : Full Address
Section C : LivingQuarters
Section D : Household
Section E : Household Member
Section F : Health and Fitness
Section G : SocialRelations
Section H : Housing
Section I : Senior Citizen
Refer eCensus Manual Guide or Frequently Ask Question as a census online submission guideline.
Deadline
It starts from 7 July until 30 September 2020
Source: MyCensus website