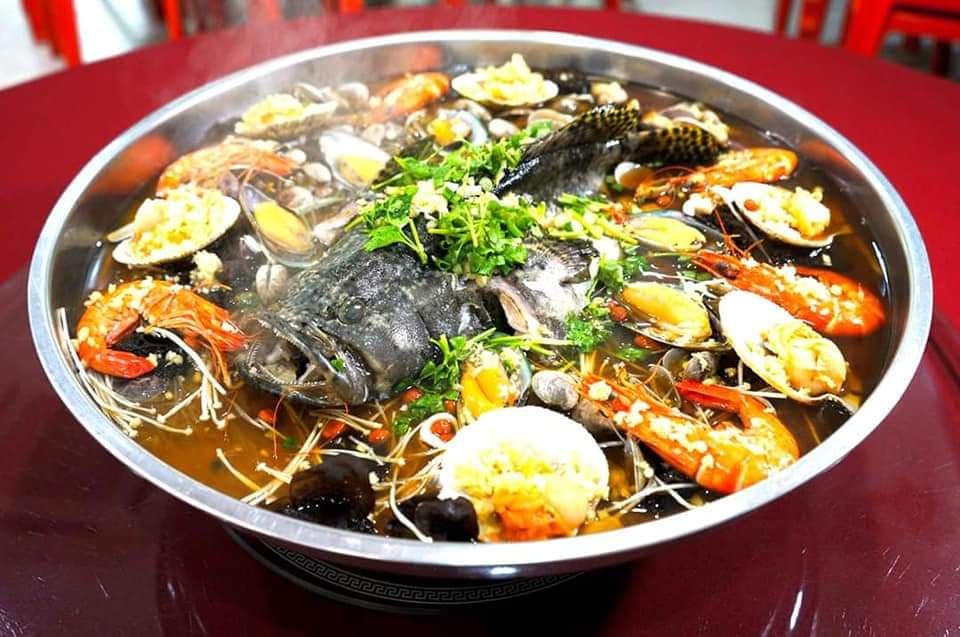 Image Source :
Facebook Qian Xi Lou Restaurant
Location:
21,Jalan Puteri 7/9,Bandar Puteri 47100 Puchong Selangor, Puchong, Malaysia
Operating Hours:
Monday - Sunday : 11:00 AM - 10:00 PM
Introduction :
Qian Xi Lou Restaurant is a renowned dining establishment located in Puchong, Selangor, Malaysia. With a reputation for its exquisite Chinese cuisine and warm hospitality, it has become a popular destination for locals and visitors seeking an exceptional culinary experience. The restaurant boasts a diverse menu featuring a wide array of delectable Chinese dishes, ranging from traditional favorites to innovative creations. With an emphasis on using fresh ingredients and expert culinary techniques, Qian Xi Lou Restaurant offers a feast for the senses. The restaurant's inviting ambience, attentive service, and commitment to quality have garnered positive reviews and made it a recommended choice for those looking to indulge in authentic Chinese flavors.
Location and Accessibility :
Qian Xi Lou Restaurant enjoys a convenient location at 21, Jalan Puteri 7/9, Bandar Puteri, Puchong, Selangor, Malaysia. Situated in the heart of Puchong, the restaurant is easily accessible to both locals and visitors. Whether you're residing in the area or exploring Puchong, Qian Xi Lou Restaurant's location offers ease of access. It is conveniently situated within a bustling neighborhood, making it a convenient dining option for individuals and groups. With its strategic position, getting to Qian Xi Lou Restaurant is hassle-free, whether you prefer to drive, utilize public transportation, or take a short walk from nearby destinations
Operating Hours :
Qian Xi Lou Restaurant caters to its customers throughout the week with its generous operating hours. From Monday to Sunday, the restaurant opens its doors from 11:00 AM to 10:00 PM. This allows diners to enjoy their exceptional Chinese cuisine for lunch, dinner, or any special occasions during the specified hours. Whether you're planning a midday meal or an evening gathering, Qian Xi Lou Restaurant's convenient operating hours provide flexibility and the opportunity to savor their delectable dishes at a time that suits your schedule.
What to expect :
Customers visiting Qian Xi Lou Restaurant typically have certain expectations based on its reputation and dining experience. Here are some things that customers generally expect:
Authentic Chinese Cuisine: Customers expect Qian Xi Lou Restaurant to offer a range of authentic Chinese dishes that showcase traditional flavors and culinary techniques. From classic favorites to regional specialties, customers anticipate a menu that represents the rich diversity of Chinese cuisine.

High-Quality Ingredients: Customers expect the restaurant to use fresh, high-quality ingredients in their dishes. They look forward to savoring the flavors of carefully selected produce, meats, and seafood, which contribute to the overall taste and quality of the food.

Flavorful and Well-Prepared Dishes: Customers expect Qian Xi Lou Restaurant to deliver flavorful, well-prepared dishes that are cooked to perfection. They anticipate a harmonious balance of flavors and textures, whether it's the delicate flavors of a dim sum dish or the bold spices of a Szechuan specialty.

Warm and Inviting Ambiance: Customers expect a warm and inviting ambience that enhances their dining experience. They look forward to a comfortable setting with tasteful decoration, pleasant lighting, and a welcoming ambience that is suitable for both casual meals and special occasions.

Attentive Service: Customers expect attentive and friendly service from the staff at Qian Xi Lou Restaurant. They anticipate being greeted warmly, having their needs catered to promptly, and receiving helpful suggestions or recommendations from the knowledgeable staff.

Clean and Hygienic Environment: Customers expect the restaurant to maintain a clean and hygienic environment. They appreciate a well-maintained dining area and adherence to proper sanitation practices, ensuring a pleasant and safe dining experience.

Reasonable Pricing: Customers generally expect Qian Xi Lou Restaurant to offer reasonable prices that provide value for money. They appreciate quality food at fair and competitive prices, allowing them to enjoy a satisfying dining experience without overburdening their budget.
Conclusion :
In conclusion, Qian Xi Lou Restaurant in Puchong, Malaysia, offers an exceptional dining experience that meets customers' expectations for authentic Chinese cuisine, high-quality ingredients, flavorful dishes, a warm and inviting ambience, attentive service, a clean environment, and reasonable pricing. With its convenient location, customers can easily access the restaurant and indulge in a wide variety of authentic Chinese dishes. Whether it's a casual meal or a special occasion, Qian Xi Lou Restaurant provides a memorable culinary journey that delights the taste buds and satisfies discerning diners.