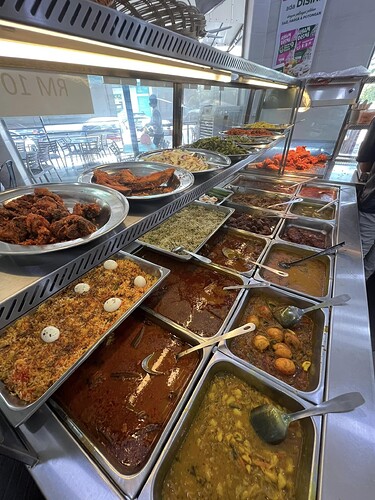 Image Source :
Facebook Rahman's Corner
Location:
65-G, Jalan BK 5A/2 Bandar Kinrara, Puchong 47180 Malaysia
Operating Hours:
Monday - Sunday : 7:00 AM - 11:30PM
Introduction :
Rahman's Corner is a popular eatery in Puchong that has gained a reputation for its delicious and authentic Malaysian cuisine. With a warm and inviting ambience, Rahman's Corner offers a comfortable dining experience for both locals and visitors alike. The restaurant takes pride in serving a variety of dishes that showcase the rich flavors and culinary heritage of Malaysia. From traditional favorites like nasi lemak and roti canai to flavorful curries and aromatic seafood dishes, Rahman's Corner delights diners with its diverse menu.
Location and Accessibility :
Located at 65-G, Jalan BK 5A/2 in Bandar Kinrara, Puchong, Rahman's Corner is easily accessible and conveniently situated for diners. The restaurant is nestled within the bustling neighborhood of Bandar Kinrara, making it a convenient dining option for both locals and visitors. With its prominent location, Rahman's Corner can be easily reached by various modes of transportation. For those traveling by car, there are parking spaces available nearby, ensuring a hassle-free experience. Additionally, public transportation options such as buses or taxis can be utilized to reach the restaurant.
Operating Hours :
Rahman's Corner is open seven days a week, offering its delightful culinary creations from 7:00 AM until 11:30 PM. Whether you're craving a hearty breakfast, a satisfying lunch, or a delicious dinner, this restaurant caters to your culinary desires throughout the day. With its extended operating hours, Rahman's Corner ensures that customers can enjoy their meals at any time that suits their schedule
What to expect :
Customers visiting Rahman's Corner can expect a delightful dining experience with a wide range of flavorful dishes. With its reputation for excellent food and attentive service, customers can anticipate delicious and satisfying meals prepared with fresh ingredients and culinary expertise. The menu offers a variety of options to cater to different tastes and preferences, ensuring there's something for everyone. From traditional Malaysian favorites to international delights, customers can expect a diverse selection of dishes that showcase the culinary skills of the talented chefs. Along with the delicious food, customers can also expect a warm and inviting ambience, making their dining experience at Rahman's Corner enjoyable and memorable.
Conclusion :
In conclusion, Rahman's Corner is a must-visit restaurant in Puchong, Malaysia, known for its delicious food, attentive service, and inviting ambience. Whether you're craving traditional Malaysian dishes or exploring international flavors, this restaurant offers a diverse menu to satisfy every palate. With its convenient location and extended operating hours, customers can enjoy a delightful dining experience at any time of the day. From the moment you step in, you'll be greeted with warm hospitality and treated to a memorable culinary journey.