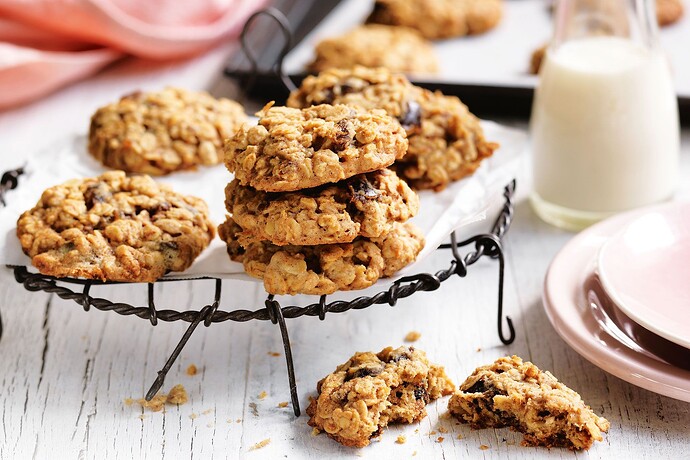 Image credit:
Taste
Cooking: 15–20 minutes
Ingredients
200g plain flour Sifted
3/4 tsp baking powder
1/4 tsp salt
75g almonds, coarsely chopped
30g quick cooking oats
140g butter
125g castor sugar
3/4 tsp vanilla essence
1 small egg
Topping
100g good quality plain chocolate, melted
Directions
Line baking trays with greased greaseproof paper. Put the oats in a food processor and blend until fairly fine. Remove and set aside.
Beat butter, sugar and essence until light and creamy. Add the egg and continue to beat for 1 minute or until light and fluffy.
Sift in flour, baking powder and salt to mix. Briefly stir in the oats, chopped dates and almonds with a metal spoon.
Lightly form into balls Place them on prepared trays and bake in preheated oven at 170°C degrees C for 15–20 minutes or until golden brown.
Allow to cool for 1 minute on the trays before transferring to wire racks to cool completely.
To melt the chocolate
Put chocolate in a heatproof bowl. Place the bowl over a saucepan of hot water and stir until chocolate melts. Put into a piping bag and pipe fine lines over the cookies.
2020-05-04T16:00:00Z