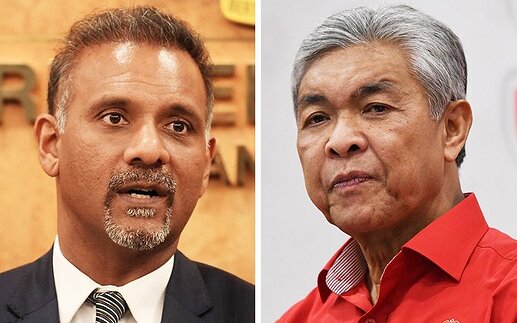 PETALING JAYA: Umno president Ahmad Zahid Hamidi should explain why he and other Umno MPs were not present in Parliament yesterday for a vote on a controversial law which the government ended up losing, says a DAP leader.
Bukit Gelugor MP Ramkarpal Singh said the public had the right to know why the government backbenchers were absent for the vote to extend the enforcement of sub-section 4(5) of the Security Offences (Special Measures) Act 2012 (Sosma) for another five years.
The motion tabled by home minister Hamzah Zainudin was defeated with 84 MPs voting in favour and 86 against. The remaining 50 MPs were absent.
He said it had given rise to speculation that the government did not enjoy Umno's support.
In a statement, Ramkarpal also said that in the case of the Sosma bill the government did not consult the opposition before tabling it.
"That being the case, the opposition was never under any obligation to support it," he said.
"In fact, I am sure that the opposition would have objected even if we were consulted beforehand as we have always been against Sosma from the beginning due to its draconian nature."
After yesterday's debacle, Zahid said the opposition had breached Article 3 of the memorandum of understanding (MoU) with the government.
"Article 3 clearly states that the opposition must agree, or abstain, in any motion brought by the government. It is one of the steps taken to create political stability in the current administration.
"As such the government must end the MoU now and free itself from weak cooperation as it is clear we must have our own strong majority and not rely on the opposition," he said in a Facebook post.
Ramkarpal said Zahid's remarks were "nonsensical" and implied the Umno president did not understand the terms of the MoU.
He said Article 3.3(b) of the MoU clearly stated that the opposition would agree to support or abstain from voting on any government bill only after it had been negotiated and agreed upon by the opposition.
"In other words, there must be consultation with the opposition first before the question of supporting or abstaining from voting on it arises.
"The MoU was never intended to result in the opposition being a rubber stamp of all government bills, as the role of the opposition as a check and balance of the government is, and always, will be paramount," he said.
Source: Free Malaysia Today