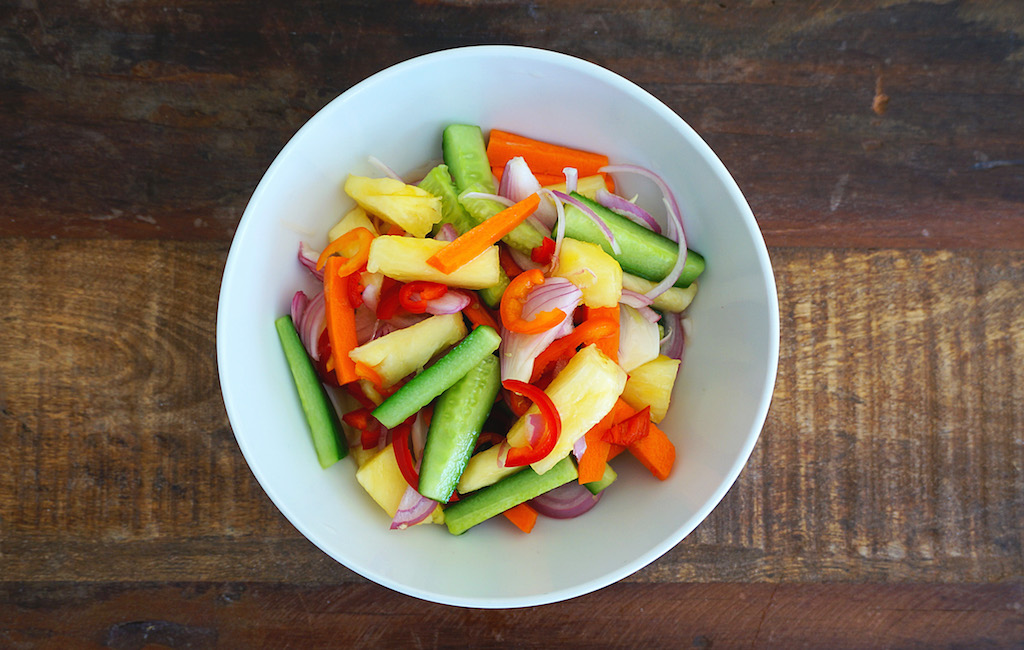 Image credit:
Seasalt
Yield: 6 servings
Preparation: 15 minutes
Cooking: 60 minutes
INGREDIENTS
1 cucumber skinned, seeded and cut into long strips
1 carrot skinned and cut into long strips
½ pineapple skinned, cut into small slices
1 red chilli seeded and sliced thickly
3 bird's eye chillies diced
1 onion sliced thinly
Pickle Ingredients:
64 grams white vinegar
43 grams water boiled and at room temperature
96grams sugar
5 grams salt
DIRECTION
First, peel cucumber, slice lengthwise, remove seeds and cut into 1 1/2 inch strips. Skin carrot and cut into long strips. Then, skin pineapple and cut into thin chunks. Cut onion in half and slice finely. Lastly, slice red chilli and bird eye's chillies.
Next, have ready all ingredients for the pickle solution: vinegar, water, sugar and salt.
Mix and stir till sugar and salt dissolves.
Place the cut vegetable and fruits into a big casserole. Pour in pickle solution and mix well. Cover and set aside in the refrigerator for an hour and it's ready to be served.
Best to serve this delightful pickle chilled with any rice or curry dish. So Enjoy!
You can adjust the amount of sugar and vinegar according to taste.
Keep this pickled refrigerated in an airtight jar and it can be kept for a few weeks.
Drain off the fluid before serving chilled or at room temperature.
The pickled fluid can be used to pickle other fruits such as papayas, mangoes or even vegetables such as cabbage and ginger. The possibility is endless!
2020-05-10T16:00:00Z