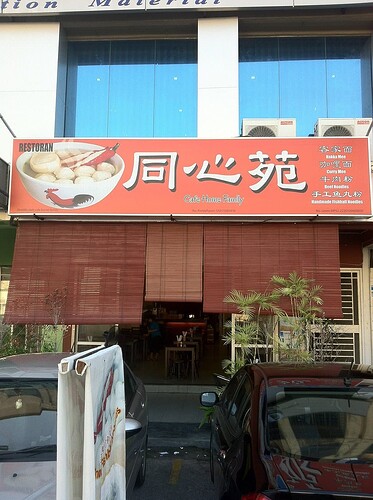 Image Source :
TripAdvisor
Location:
17G Jalan Bandar 12 Pusat Bandar, Puchong 47100 Malaysia
Operating Hours:
Monday - Sunday : 10:00 AM - 10:00 PM
Introduction :
Cafe Home Family is a charming and cozy dining establishment located in Puchong, Selangor, Malaysia. As its name suggests, the cafe provides a welcoming and homely ambience where guests can enjoy a delightful dining experience. Whether you're looking for a place to relax, catch up with friends, or have a cozy family gathering, Cafe Home Family offers a warm and inviting environment. The cafe features a diverse menu that caters to a variety of tastes and preferences. From delicious breakfast options to hearty lunch and dinner dishes, as well as a selection of snacks and beverages, there's something for everyone. The culinary offerings are prepared with care and attention to detail, ensuring a satisfying and flavorful dining experience.
Location and Accessibility :
Cafe Home Family is conveniently situated at 17G Jalan Bandar 12 in Pusat Bandar, Puchong, Malaysia. The cafe's location offers easy accessibility for both locals and visitors. Whether you're residing in Puchong or nearby areas, reaching Cafe Home Family is hassle-free due to its well-connected transportation links. Guests can access the cafe by car, taxi, or public transportation, and there are parking facilities available nearby. The accessible location ensures that diners can easily find their way to Cafe Home Family and enjoy the cozy dining experience it offers.
Operating Hours :
Cafe Home Family welcomes guests throughout the week, with operating hours from 10:00 AM to 10:00 PM. Whether it's a leisurely breakfast, a midday lunch, an afternoon coffee break, or a cozy dinner, the cafe provides a convenient timeframe for customers to enjoy their dining experience. From Monday to Sunday, visitors can indulge in delicious meals and beverages at Cafe Home Family within the specified operating hours. The extended hours also allow for flexibility, making it suitable for various dining occasions and schedules
What to expect :
Customers visiting Cafe Home Family can expect several things:
Comfortable and Cozy Ambience: Customers can anticipate a welcoming and homely ambience at Cafe Home Family. The cafe aims to provide a comfortable setting where guests can relax and enjoy their dining experience.

Diverse Menu Options: Cafe Home Family offers a diverse menu with a variety of choices to cater to different tastes and preferences. From breakfast favorites to satisfying lunch and dinner options, as well as snacks and beverages, customers can expect a range of delicious selections to choose from.

Flavorful and Well-Prepared Dishes: The cafe takes pride in serving flavorful and well-prepared dishes. Whether it's a hearty meal or a tasty snack, customers can expect their orders to be cooked with care and attention to detail.

Friendly and Attentive Service: Cafe Home Family values customer satisfaction and strives to provide friendly and attentive service. The staff members are known for their hospitality and are ready to assist customers with their orders and any inquiries they may have.
Conclusion :
In conclusion, Cafe Home Family in Puchong, Malaysia, offers a delightful dining experience in a cozy and welcoming atmosphere. With its convenient location, diverse menu options, well-prepared dishes, friendly service, and good value for money, the cafe aims to provide customers with a memorable visit. Whether you're seeking a comforting breakfast, a satisfying lunch, a relaxing coffee break, or a cozy dinner, Cafe Home Family caters to various dining preferences throughout its extended operating hours.