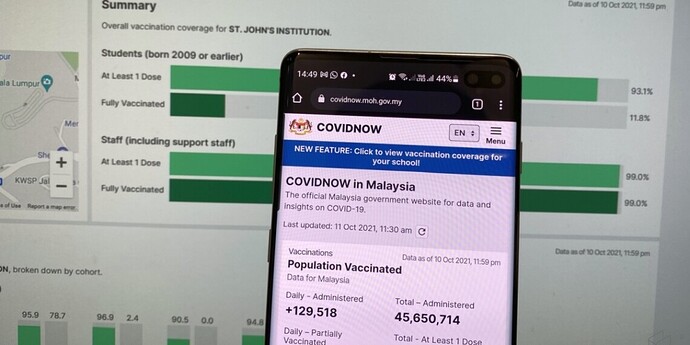 Malaysia's National Immunisation Programme is now focusing on teenage vaccination as over 90% of the total adult population have been vaccinated against COVID-19. If you're a parent and want to know the vaccination progress in your child's school, the COVIDNow dashboard is now updated to show more data on the school's vaccination status.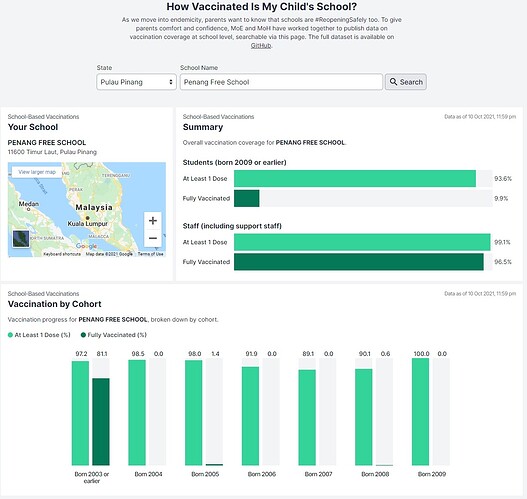 The Ministry of Health and the Ministry of Education have worked together to publish the vaccination coverage data at the school level. Users are able to search for their school and it will display the percentage of students and staff that have gotten at least a dose as well as the percentage of fully vaccinated
The data is also broken down by age groups ranging from students that are born in 2004 to 2009. You can view your school's vaccination progress on the COVIDNow website. Users can also view the raw data on the Ministry of Health's Github.
Teenage students aged between 12 to 17 years old are currently getting vaccinated at their respective schools. Walk-ins are offered for teens who are not schooling or are currently in institutions of higher learning. The Ministry of Health has recently announced that Sinovac vaccines have been given conditional approval for teen vaccination. However, Pfizer is still the default option, and Sinovac will be prioritised for teens who can't get vaccinated or are having allergies. Both Pfizer and Sinovac vaccines have a 3-week interval between the first and second dose.
At the moment, 72.2% of teens have received at least one dose and 7.4% are fully vaccinated in Malaysia. Overall, 74.9% of the total population have received at least one dose and 65.2% are fully vaccinated.
Effective today, 11th October, Malaysia has lifted the interstate travel ban but it is for fully vaccinated individuals. Sabah has yet to decide on lifting interstate travel restrictions. Meanwhile, Sarawak requires travellers to apply for permission online and individuals are also required to submit proof of vaccination as well as a negative COVID-19 test result.
source: SoyaCincau