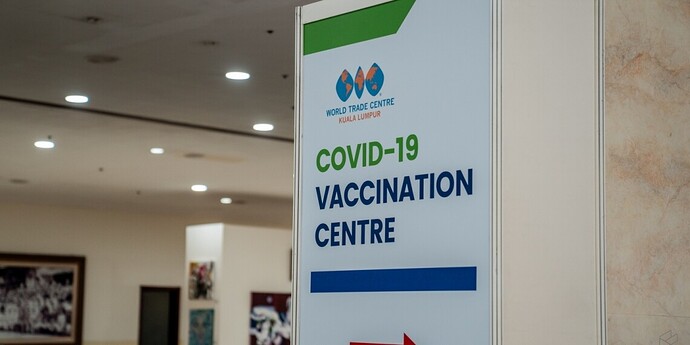 As mentioned by Health Minister Khairy Jamaluddin last week, four high capacity vaccination centres(Mega PPV) will open in Kuala Lumpur and Selangor to ramp up the COVID-19 vaccine booster programme. The four Mega PPVs are World Trade Centre in Kuala Lumpur, Axiata Arena in Bukit Jalil, Ideal Convention Centre in Shah Alam and Soka Gakkai in Klang.
The four vaccination centres will open from 8am daily. All centres will operate until 9pm except for Soka Gakkai which closes at 5pm. Take note that the PPVs are only accepting individuals who have received an appointment via MySejahtera. Walk-ins are not allowed at the moment. Appointments for COVID-19 vaccine boosters are pushed out automatically via MySejahtera and SMS, and there's no need to register again if you've been fully vaccinated.
According to World Trade Centre, their PPV will be offering only AstraZeneca vaccines with the capacity of administering 9,000 doses per day. BookDoc, BP Healthcare and U.N.I Klinik will be involved in the mega PPV programme. It added that the Mega PPV operations at WTC will run for a period of two months until 15th March 2022.
Before going for your COVID-19 booster, it is recommended that you have sufficient sleep and have a good breakfast or lunch. You're recommended to wear comfortable cloths and bring along your identity card or passpoart, along with your proof of completed vaccination. If you don't have the vaccination card, you can show your digital vaccine certificate. Individuals are encouraged to bring their own pens to sign the consent form to minimise physical contact.
Take note that you must wear a face mask at all times. Individuals who are not feeling well or having a high-risk status on MySejahtera are urged to defer their vaccination appointment.
All boosters under the National Immunisation Programme are offered for free and it's currently offered to adults (aged 18 years old and above). You are eligible for a booster if you're a fully vaccinated at least 3 months ago (2 months if vaccinated with Johnson & Johnson vaccine). The current recommended booster is either Pfizer or AstraZeneca. Sinovac is currently offered to Sinovac recipients who can't take mRNA-based vaccines.
As of 13th January 2022, Malaysia has administered over 8.8 million boosters which covers 37.6% of total adults in Malaysia. The booster programme has hit a record high yesterday with a total of 260,346 boosters administered in a single day.
As shared by Dr Mahesh Appannan, the head of Data at Crisis Preparedness and Response Centre (CPRC) at Ministry of Health, 58.7% of boosted AstraZeneca individuals have received Pfizer booster (AAP) and 41.1% have received AstraZeneca booster (AAA). For boosted Sinovac individuals, 84.7% had received Pfizer booster (SSP), followed by 13% receiving Sinovac Booster (SSS) and 2.3% receiving AstraZeneca (SSA). As of yesterday, 57% of total Sinovac recipients have already received their boosters. For boosted Pfizer individuals, 96.5% have received Pfizer (PPP) and 3.3% have gotten AstraZeneca as their booster (PPA).
source : soyacincau