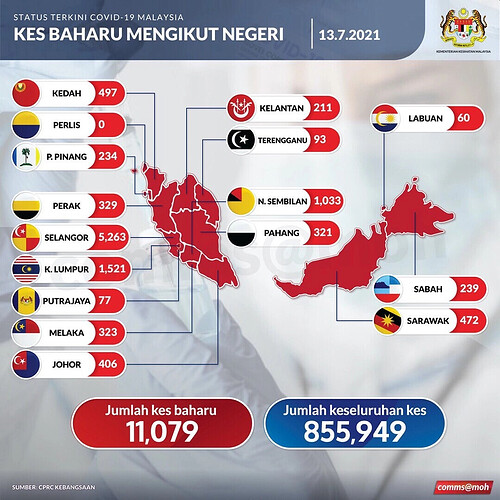 The Ministry of Health has reported 11,079 new COVID-19 cases today, which is a new record high in Malaysia. This is the first time the country recorded over 10,000 cases in a single day. There are now a total of 855,949 positive cases recorded so far.
According to the breakdown, Selangor recorded the most with 5,263 cases, followed by Kuala Lumpur with 1,521 cases, Negeri Sembilan with 1,033 cases and Kedah with 497 cases.
Malaysia has recorded 125 new deaths today bringing the death toll to 6,385. There are 5,990 new recoveries today and a total of 753,328 patients have been discharged so far. The recovery rate is now 88.01% while the mortality rate is 0.75%. There are now a total of 96,236 active cases. 972 patients are in ICU while 456 require respiratory support.
Source: SoyaCincau