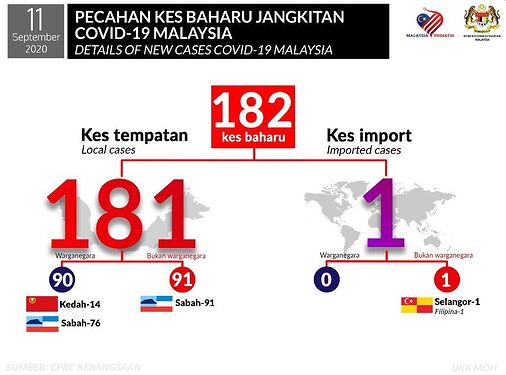 Malaysia has recorded a significant spike today with 182 new COVID-19 cases. Today marks the highest number of new daily cases since 4th June 2020. It also brings the total number of positive cases to 9,810. Fortunately, there are no new deaths recorded and the death toll remains at 128.
The Ministry of Health has reported 14 new recoveries today and a total of 9,181 patients have recovered and discharged so far. The recovery rate is currently 93.59% while the mortality rate is 1.30%.
There are now 501 active cases remaining which are isolated and receiving treatment. 9 patients are in ICU while 5 require respiratory support.
Out of the 182 cases today, there's one imported case involving a foreigner that arrived from the Philippines. The remaining 181 cases are local transmissions.
From the 181 cases, 167 of it from Sabah Benteng LD cluster where 91 are foreigners (61 Filipinos and 30 Indonesians) and 76 Malaysians, the remaining 14 new cases from Kedah with 11 from Sungai cluster and 3 from the Telaga cluster.
According to the Ministry of Health, a total of 2,837 individuals have been screened at the Benteng cluster. 1,584 individuals from Tawau and Lahad Datu are still waiting for their results.
For the Sungai cluster, 2,170 individuals have been screened with 579 individuals awaiting results. Meanwhile, a total of 4,718 individuals from the Telaga cluster have been screened and there are 92 individuals who are still waiting for their results.
Source: SoyaCincau