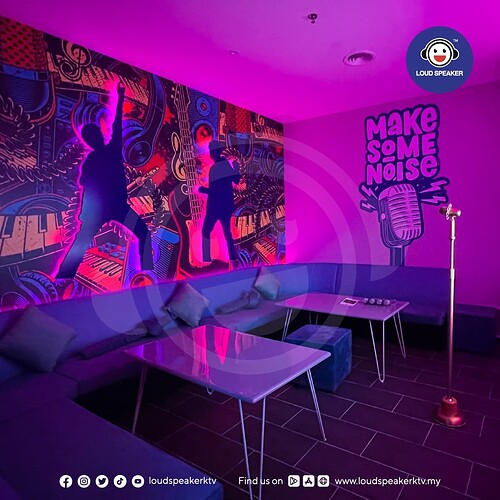 Image Source :
Facebook Loud Speaker
Location:
Unit 5, Level 3, Block K, Setia Walk Mall, Persiaran Wawasan, Pusat Bandar Puchong, 47160 Puchong, Selangor
Operating Hours:
Monday - Sunday : 12:00pm - 3:00am
Introduction :
Loud Speaker Family Karaoke Puchong is the ultimate destination for karaoke enthusiasts and music lovers. With state-of-the-art facilities, an extensive song library, and a vibrant atmosphere, this karaoke center offers a memorable and entertaining experience for people of all ages. Whether you're looking to showcase your singing talent, enjoy a fun night out with friends, or celebrate a special occasion, Loud Speaker Family Karaoke Puchong has everything you need. From private karaoke rooms equipped with top-notch audio and visual systems to a friendly and professional staff, every detail is designed to ensure a fantastic karaoke experience. Get ready to unleash your inner superstar and create unforgettable memories at Loud Speaker Family Karaoke Puchong.
Location and Accessibility :
Loud Speaker Family Karaoke Puchong is conveniently located at Unit 5, Level 3, Block K, Setia Walk Mall, in the heart of Pusat Bandar Puchong, Selangor. Setia Walk Mall is a popular and vibrant shopping destination, known for its diverse range of entertainment and dining options. The karaoke center is easily accessible by both private and public transportation, with ample parking facilities available for those arriving by car.
Operating Hours :
Loud Speaker Family Karaoke Puchong caters to the karaoke enthusiasts' desire for non-stop singing entertainment. With their extended operating hours, the karaoke center welcomes guests from Monday to Sunday, starting at 12:00pm until the early hours of 3:00am. This allows visitors to indulge in their passion for singing and enjoy a fun-filled karaoke experience at any time of the day.
What to expect :
Customers visiting Loud Speaker Family Karaoke Puchong can expect a vibrant and enjoyable karaoke experience. The establishment provides a wide selection of songs, ranging from the latest chart-toppers to classic favorites, catering to diverse musical preferences. The karaoke rooms are well-equipped with high-quality sound systems and comfortable seating, creating a cozy and immersive ambience for guests to sing their hearts out. The staff members are friendly and attentive, offering excellent customer service and assisting with song selections or technical support as needed. Additionally, the karaoke center may offer various promotions, package deals, and refreshments to enhance the overall experience.
Conclusion :
In conclusion, Loud Speaker Family Karaoke Puchong is a popular destination for karaoke enthusiasts looking for a fun and entertaining experience. With its convenient location, extensive song selection, well-equipped karaoke rooms, and friendly staff, the establishment ensures that customers have a memorable time singing their favorite tunes.