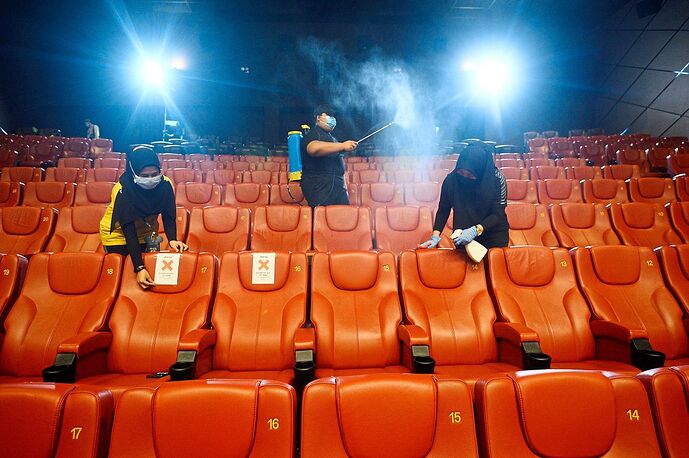 PETALING JAYA: Cinemas being given the green light to reopen in all states is great news to many, but Malaysians have to wait a little longer.
Cinema operators and the Malaysian Association of Film Exhibitors (Mafe) have met to decide on a later opening date.
Koh Mei Lee, CEO of GSC, explained: "We are not opening today because we are still waiting for the detailed SOP from the National Security Council (NSC) which is not out yet.
"Also because some of the latest movies that have been released internationally are currently undergoing censorship review.
"So as soon as we have some movies, we will try to open as soon as possible."
She said GSC was targeting to open possibly by Sept 16.
Yesterday, cinema operators were in the midst of cleaning and sanitising their premises after being dormant for months.
"There are several aspects to our preparation to ensure our facilities and equipment are functioning.
"These include cleaning and sanitisation of halls and common areas, and training of our front line staff and deployment of new standard operating procedures such as checking of vaccination certificates," said Mohit Bhargava, general manager of sales and marketing for TGV Cinemas.
"As an industry, we are responsible for creating some 20,000 jobs; all of which have been impacted due to cinema closures.
"With the reopening, we hope to rebuild our business and help our staff and their families regain normalcy," he added.
College student Nurul Tahirah, 22, who last watched Tenet on the big screen more than a year ago, said she was looking forward to finally sitting in a big theatre hall to watch a movie, instead of the couch at home and on her computer screen.
"The energy and the atmosphere of watching a movie in a cinema is more fun and thrilling," she said.
Nishaleeny Nainar, 33, an educator, concurred: "I do agree on the opening of cinemas and that it should only be for the fully vaccinated."
Leia A, 22-year-old personal assistant, said the reopening of cinemas would help revive the entertainment industry.
"This will also push people to get vaccinated (if they want to visit the cinema)," Leia added.
In his announcement on Tuesday, Prime Minister Datuk Seri Ismail Sabri Yaakob said only those fully vaccinated can partake in cinema activities, with halls set at a maximum capacity of 50%.
However, not everyone will be making a beeline to the cinemas just yet.
Thanabalan Kannan wrote on Facebook: "Life is more important than watching a movie. Better don't take (the) risk."
Luke Rayan, 33, said when contacted: "I still think it's too early considering that a high number of children have yet to be vaccinated."
Salesman Mohd Deen, 32, a father of a two-year-old girl, said: "I really want to watch the new James Bond movie on the big screen.
"But this is not going to be possible as I have to think of the safety of my daughter."
As of now, the 25th instalment of the James Bond franchise, titled No Time To Die, is tentatively set to open in Malaysia on Sept 30.
Other confirmed movie titles include Malignant (Sept 23), The Suicide Squad (Sept 30), Dune (Oct 14) and Matrix Resurrections (Dec 22).
Source: thestar