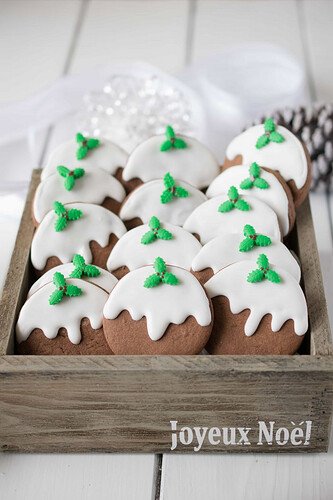 Image credit :
culinaryginger
prep time 1 HOUR cook time 12 MINUTES total time 1 HOUR 12 MINUTES
INGREDIENTS
4 ounces (1 stick) unsalted butter, cold cut into small cubes
1/2 cup granulated sugar
1 tablespoon vegetable oil
1 teaspoon vanilla extract
1 large egg, room temperature
1/4 teaspoon salt
1/2 cup unsweetened cocoa powder
1 1/2 cups all-purpose flour
1/4 cup corn starch
10 ounces white cookie icing
12 ounces green fondant
DIRECTION
Preheat oven to 375 degrees F.
To a mixing bowl with hand blender or stand mixer add the butter, sugar, oil and vanilla. Cream until the sugar is dissolved and smooth then add the egg and mix in well. Don't over mix.
Use a spatula to fold in the salt, cocoa powder, flour and corn starch. Mix until there is no flour visible.
Lay out a large piece of plastic wrap and turn out the dough into the center.
Cut the dough in half and wrap half in plastic wrap and refrigerate. With the other 1/2 of the dough add to a sheet of parchment paper and put another sheet of parchment on top. (rolling in parchment stops the rolling pin from sticking to the dough).
Use a rolling pin to roll out the dough to 1/4 inch thick. Using a 2 inch cookie cutter, cut out rounds and put them onto a parchment covered baking sheet, 1/2 inch apart.
Remove the other half of the cookie dough from the fridge and repeat, rolling it out and cutting the cookies.
Place them all on a parchment lined baking sheet and bake for 10-12 minutes. Remove and allow to cool completely on a cooling rack.
Once cooled, use the white cookie icing to draw the frosting so it looks like it's dripping down the cookie.
Roll out the green fondant and cut out the holly. Once the icing is dry, place the holly at the top and in the middle of the icing.