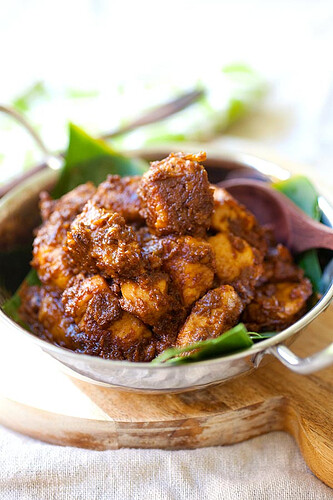 image credit:
rasamalaysia
Ingredients
1 1/2 lbs. boneless and skinless chicken breasts or thighs, cut into cubes
1/3 cup cooking oil
1 cinnamon stick
3 cloves
3 star anise
3 cardamom pods
1 lemongrass, white part only, pounded and cut into strips
1 cup coconut milk
1 cup water
5 kaffir lime leaves (bruised)
5 tablespoons toasted grated coconut, kerisik
1 tablespoon sugar or to taste
salt to taste
SPICE PASTE:
6 shallots
1- inch galangal
3 stalks lemongrass (white part only)
4 cloves garlic
1- inch piece ginger, peeled
10 dried chilies, chili arbol, seeded
Direction
Season the surface of the salmon with salt, black pepper and cayenne pepper. Set aside.
Mix the honey, water, apple cider vinegar or lemon juice and a pinch of salt together. Stir to combine well.
Heat up an oven-safe skillet (cast-iron skillet preferred) on high heat. Add the olive oil. Pan-fry the salmon, skin side down first, for about 1 minute. Turn the salmon over and cook for 1 minute. Turn it over again so the skin side is at the bottom.
Add the garlic into the pan, saute until slightly browned. Add the honey mixture and lemon wedges into the skillet, reduce the sauce until it's sticky.
Finish it off by broiling the salmon in the oven for 1 minute or until the surface becomes slightly charred (optional step).
Top the salmon with parsley and serve immediately.