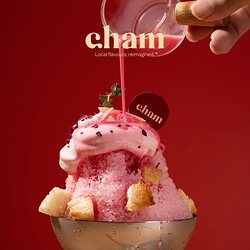 Image source: Facebook
Location:
Stellar Suites, 01-02, Jln Puteri 4/7, Bandar Puteri Puchong, 47100 Puchong, Selangor
Operating Hours:
Tuesday - Sunday : 2:00 PM - 10:00 PM
Introduction :
Cham Dessert Cafe is a popular dessert spot located in Bandar Puteri, Puchong, Selangor, Malaysia. The cafe offers a variety of Asian-inspired desserts such as shaved ice, Hong Kong-style egg waffles, and durian desserts. Customers can also enjoy beverages such as coffee, tea, and fruit juices.
Location and Accessibility :
The restaurant is easily accessible by car and public transportation. If you are driving, you can easily find parking around the area. If you are taking public transportation, you can stop at Bandar Puteri LRT station and have a 3 minutes walk.
Operating Hours :
This cafe's operating hours are from 2:00 PM - 10:00 PM on Tuesday to Sunday. However, please note that these hours may be subject to change during public holidays or special occasions
What to expect :
Above are their signature dishes:
Mango Sago Pomelo: A refreshing dessert made with fresh mango, sago pearls, and pomelo in a sweet and creamy coconut milk base.
Durian Pancake: A must-try for durian lovers, this dessert features soft and fluffy pancakes filled with fresh durian pulp and cream.
Tiramisu Shibuya Toast: A Japanese-style thick toast topped with creamy tiramisu, chocolate syrup, and whipped cream.
Hong Kong-style Egg Waffles: A classic street food snack from Hong Kong, these crispy and fluffy egg waffles are served with various toppings such as ice cream, fruits, or chocolate sauce.
Conclusion :
The prices at Cham Dessert Cafe are reasonable and affordable, and the service is generally friendly and efficient. Definitely a convenient spot for an afternoon snack or dessert after dinner. Overall, if you have a sweet tooth and enjoy Asian-inspired desserts, Cham Dessert Cafe is definitely worth a visit!