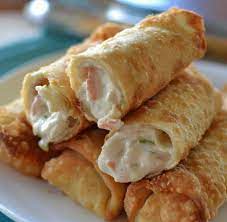 Image credit: Facebook


INGREDIENTS A:
½ Yellow onion, diced
3 cloves Garlic, minced
200 g Minced chicken and sausage
80 g Carrot, diced
Prego Cheese and Herbs (yellow tin)
Cheese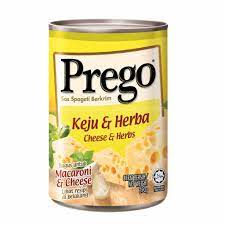 Image credit: Sagamission
INGREDIENTS B:
15 pieces Spring roll skin
2 tbsp Wheat flour, mix with some water
Cooking oil
Heat the oil, saute the yellow onion and garlic until fragrant.
Add chicken, sausage and carrot, mix until half cooked.
Add in Prego Cheese and Herbs (yellow tin), mix well.
Add in 2 slices of cheese, mix well.
Turn off the heat, and let it cool for a while.
Spring roll
Add 1 tbsp of the cooked filling on a piece of spring roll.
Wrap and fold neatly, then use the wheat flour mixture as glue to secure.
Heat cooking oil and fry until golden brown. Ready to serve.
Notes: if you want to add cheese, you can wrap it together with the filling. It is better to divide the size of the cheese pieces into two or three to ensure that the dish does not become salty