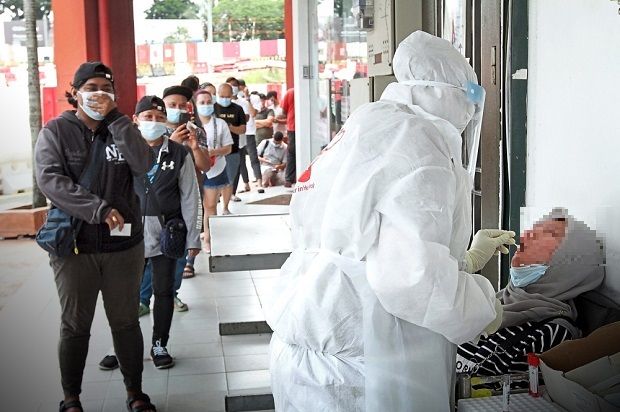 image source: the star
KLANG: Employers here are working out how to arrange for their foreign workers to undergo compulsory Covid-19 screening without disrupting their workflow and closing down businesses.
The targeted screening programme for foreign workers in red zones such as Klang, initiated by the Human Resources Ministry, came into effect yesterday.
Little India Entrepreneurs Association Klang president Charles Manickam said members were discussing how best to carry out the exercise without bringing their businesses to a temporary halt.
"We cannot afford to close our businesses for a day or so and take our workers for the screening, " said Manickam.
"There are suggestions from association members that we get doctors to come to a common location here to carry out the tests.''
Most of the workers employed by businesses on the Jalan Tengku Kelana stretch are Indian nationals.
According to Manickam, there are doctors who have indicated their willingness to conduct such a screening.
"So now it is left to us to speak with the authorities, including the Human Resources Ministry, to find out if this is possible, '' he added.
On Monday, The Star reported government agencies in charge of the mandatory Covid-19 screening of foreign workers, which began yesterday, as saying that they were doing all they could to make the process as seamless as possible.
The Labour Department of Peninsular Malaysia and the Social Security Organisation (Socso) said they understood employers were worried about the ruling but it has to be done as clusters of infected foreign workers surged.
Labour Department chief Asri Ab Rahman said his department and Socso were entrusted with conducting the screening of 888,342 foreign workers in Selangor, Labuan, Kuala Lumpur, Penang and Negri Sembilan.
On Nov 25, Senior Minister Datuk Seri Ismail Sabri said all 1.7 million documented foreign workers must be screened.
Popular Chinese restaurant Haixian Zai's general manager Rickleus Yoon said his management team would discuss how they can arrange screening for their Myanmar and Vietnamese workers.
"Since screening is allowed in stages, we will possibly arrange for our waiters and waitresses to go for the screening first.
"As they are the ones dealing with our diners, getting them screened first will also boost our customers' confidence that they are eating in a safe environment, '' said Yoon.
Once the first batch of workers is screened, the management will wait a while before sending a second batch who are kitchen staff.
He said this was because the restaurant needs to allocate the budget to carry out the screening as well.
"As it involves some financial implications, we have to make sure we have the necessary funds to pay for the screening, '' said Yoon.
Cost of the tests is only partially covered by Socso for registered workers.
When contacted, an officer from the Klang Socso office said the organisation will only reimburse RM60 for every antigen rapid test (RTK-Ag) for each contributing foreign worker.
"The rest of the cost, as well as clinic charges, has to be borne by the employers, '' she added.
The RTK-Ag test kit in private healthcare outlets is prescribed at between RM150 and RM180 for now.
The officer also said claims must be made online and will be processed by the Socso headquarters.
Klang became a hotspot after several thousand foreign workers employed by latex glove maker Top Glove Corporation Bhd tested positive for Covid-19.
This resulted in the area where the workers lived in Meru to be placed under enhanced movement control order.
Meanwhile, the Selangor Task Force for Covid-19 (STFC) has decided to carry out targeted testing for communities living near the movement control order area in Meru.
The areas covered will be Taman Meru 3, Taman Seri Meru, Taman Bayu dan Taman Desa Permai.
Mass testing will begin today from 9am to 2pm at Taman Meru 3 Community Centre. Those who wish to be screened are advised to register at screening.selangkah.my.
Source: the star