GAP BETWEEN AFFORDABILITY AND TREATMENT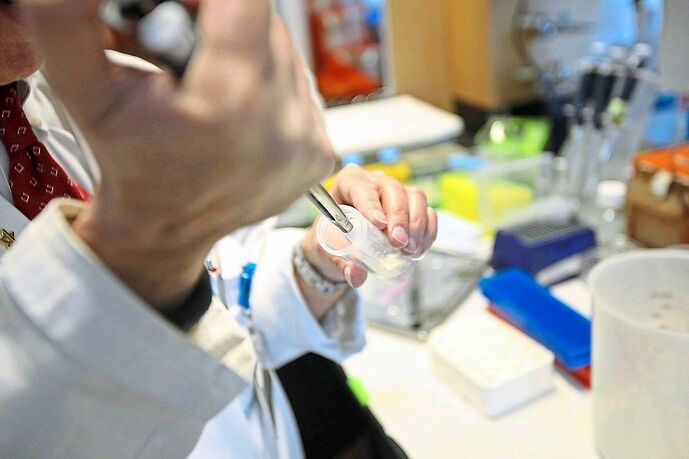 Advances in cancer treatment and rare disease have enabled patients to live longer.
However, the incredibly high research and development cost of these therapies often makes them unaffordable, even for those with personal health insurance.
According to the 2019 National Health and Morbidity Survey (NHMS), only 22% of our population has personal health insurance.
A whopping 43% of the uninsured population are unable to afford it, while 36% claim it is not necessary.
The lack of financial resources mean that some cancer patients may opt for cheaper, alternative therapies, seek financial assistance from various sources, or give up the fight altogether.
In short, yes, money can indeed buy you a longer life under certain circumstances.
One source of financial assistance is the various non-profit organisations (NPOs); however, public awareness of these resources is poor.
More affordable
In October 2018, Looi (full name held back for privacy) was diagnosed with "accelerated" chronic myeloid leukaemia (CML) and sought treatment at a private hospital.
The 27-year-old customer care officer was prescribed an expensive drug, a tyrosine kinase inhibitor (TKI), to manage her condition.
She was referred to the public Hospital Ampang in Selangor, so that she could obtain the drugs at reduced cost.
After six months on the waiting list, Looi finally received the drugs, which was covered by a non-governmental organisation (NGO).
All went seemingly well until late 2021 when she started experiencing debilitating migraines that worsened over several days, leading to dizziness and vertigo.
Further imaging tests and a lumbar puncture revealed her cancer cells had spread to the central nervous system, and she was categorised as being in the "blast" or advanced stage of CML.
"I went back to the private hospital and was told I needed four cycles of chemotherapy.
"Fortunately, I was able to claim the cost of these treatments from my personal insurance.
"But I was also prescribed a newer drug, ponatinib, and had to take it continuously to manage the cancer," she shares.
Unfortunately, this medicine was only available at private hospitals, and due to its high cost, Looi, now 32, knew she wouldn't be able to afford it in the long run.
Her haematologist then referred her to Axios International's Patient Assistance Program (PAP), which she had never heard of before.
After the registration and verification process, Looi was told she was eligible to receive aid.
She says: "I'm thankful that with their help, I can get ponatinib at about one-third of its actual cost – the balance is covered by my personal and employee insurance."
Her treatment cost, plus additional medications she is on to manage the side effects (such as anti-nausea pills), comes up to about RM120,000 annually.
Since being on the new drug, Looi has been able to resume a somewhat normal life.
Among the 48,639 new cancer cases reported in Malaysia in 2020, 17.3% had breast cancer, 13.6% colorectal cancer, 10.6% lung cancer, 4.6% nasopharyngeal cancer, 4.4% liver cancer and 49.6% other cancers.
Data compiled by Cancer Research Malaysia shows that high-income breast cancer patients in Malaysia have a higher survival rate of over 90%, compared to low-income patients, less than 65% of whom survive the disease.
But access to treatment – not just awareness – continues to be a challenge for many cancer patients, especially those from the B40 income group.
This is where the Dublin, Ireland-based Axios International works to bridge the gap and make life-saving therapies accessible to more people globally.
"Our focus is on breaking down barriers to transform healthcare so the patient can afford treatment wherever he lives.
"This involves treatment in both private and public hospitals.
"We work together with stakeholders and pharmaceutical companies that manufacture medicines to understand equitable access – that could mean an annual course of treatment, or in cases of chronic illnesses, a longer duration of treatment," managing partner Roshel Jayasundera says.
Every case is evaluated individually to determine how much the organisation can contribute.
As can be seen from Looi's case, despite having medical insurance, treatment can sometimes still be unaffordable.
"In some countries, if there are no reimbursements or care provided by the government, these patients will fall under the out-of-pocket sphere, so they don't have a solution.
"At the same time, some might have access to sporadic donations, which is still not feasible," says Roshel.
Each year, the patient is assessed by a physician, and if the patient gets cancer again, she will be eligible for aid again, provided she has a prescription.
"The financial aid for treatment ranges, but in terms of cycles, we provide patients with three to 10 cycles of support per year," adds Roshel.
The disease given the most assistance is cancer, although support is also given in other conditions such as heart disease, blood disease, psoriasis and elderly care.
She says: "We have also launched a programme for rare disease, mostly in paediatric care.
"There is no age limit to receive our support – as long as the patient fits our medical criteria, we will accept the case."
Since 2017, Axios has supported almost 2,000 Malaysian patients and is looking to support more.
An equally important question is whether doctors themselves know of Axios?
"That's one of our challenges, so we have partnered with local organisations such as WeCare and National Cancer Society of Malaysia to help increase awareness," says Roshel.
The process to apply for help is simple: The doctor prescribes treatment and refers the patient who needs help to Axios via their email or app.
Or the patient can contact Axios directly with the relevant documents.
Roshel says: "Beyond addressing the affordability barrier, we also provide support to ensure patients adhere to treatment.
"We support them psychosocially, educate them on disease awareness and help them get access to diagnostic tests."
The patient's journey often occurs outside the clinical setting.
"We act like a companion throughout the journey for the patient and caregiver.
"The support may not always be face-to-face, but maybe through phone/virtual calls or peer support group," she adds.
Help to survive
When Yu Jia Xuan was five months old in 2018, her mother noticed she didn't move her legs or feet much.
Sensing something was wrong, mum Voon Jian Jian took her child to see a paediatrician at Hospital Umum Sarawak.
Although they lived in Puchong, Selangor, Voon had brought her daughter back to Kuching to temporarily stay with her parents as she needed support to look after the child.
Her husband was also employed in Kuching at that time.
After undergoing a series of neurological and genetic tests, Jia Xuan was diagnosed with spinal muscular atrophy (SMA) when she was 18 months old.
SMA is a disorder affecting the nerve cells that control voluntary muscle movement, which, at that time, had no treatment available in Malaysia.
Voon's world shattered.
Nevertheless, the housewife took Jia Xuan for regular acupuncture treatment twice a week, along with weekly full body massages with a therapist.
Initially, Jia Xuan had difficulty raising her arms and lifting her head, but was eventually able to lift her head independently without support.
"I only paid RM40 per session for these sessions, and about RM200 every time we consulted the doctor.
"At that time, Jia Xuan was not prescribed any medication for her condition," says Voon, 35.
Unfortunately, Jia Xuan was not able to continue these alternative therapies during the Covid-19 pandemic and her condition deteriorated.
Voon shares: "We had to apply for an electric wheelchair and a cough-assist machine, which helped Jia Xuan remove excess phlegm from her chest, as she was prone to developing pneumonia and breathing difficulties.
"Renting the machine cost RM100 monthly, which was subsidised by an NGO; her wheelchair was sponsored by a welfare organisation."
Jia Xuan's healthcare expenses amounted to RM800 monthly.
Then in 2022, the drug nusinersen became available in Malaysia to treat SMA.
However, the cost of over RM50,000 a year (depending on the number of doses/injections required) was unaffordable for the family.
The couple didn't know where to seek help as their child's doctor did not provide them with much information.
Life became even tougher after Jia Xuan's father lost his job.
Voon's friend, whose daughter also has SMA, then told her about Axios' programme and put in an application on her behalf.
She was notified in April (2023) that Jia Xuan, now five years old, had been enrolled in the PAP.
A relieved Voon says: "The first nusinersen injection was administered in July (2023), and since then, there has been a marked improvement in Jia Xuan's mobility.
"She can now move her hands and legs with more energy and strength, enabling her to play with her toys."
Says Roshel: "Our goal is to give as many people as possible access to the state-of-the-art healthcare solutions they need to survive."
Source: thestar