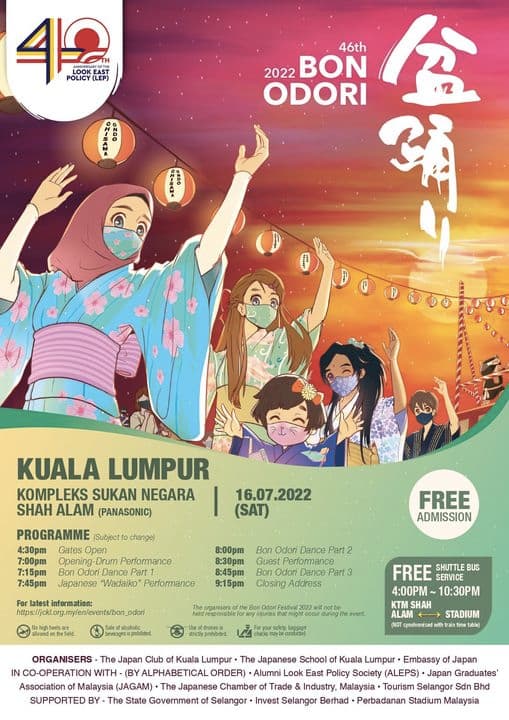 This event started out as a small affair for Japanese expatriates to immerse their children in Japanese culture in 1977. It has now grown into a much-awaited annual event of about 35,000 participants each year.
On 16 July 2022 4pm until 11.30pm, Bon Odori festival will be held on Kompleks Sukan Negara Shah Alam (Panasonic).For the time 4pm-10.30pm FREE shuttle bus service (10 buses) between KTM Shah Alam Station and the stadium will be provided. However the departure and arrival time of the buses are not synchronized with KTM train time schedule.This event is free admission but please take note that BAGGAGE CHECKS may be CARRIED OUT during entry.
PROGRAMME (Tentative)
4:30 pm Gates Open
7:00 pm Opening– Drum Performance
7:15 pm Bon Odori Dance – Part 1
7:45 pm Japanese "Wadaiko" Performance
8:00 pm Bon Odori Dance – Part 2
8:30 pm Guest Performance
8:45 pm Bon Odori Dance – Part 3
9:15 pm Closing Address
NOTE
Please show Mysejahtera status at the entrance.
We recommend wearing a mask at all times .
Sale of Alcohol is NOT allowed! Self provided and consumption is allowed.
NO SMOKING! Do not sit on the ground!! Dance with us!!!
The Bon Odori Festival organisers shall NOT be responsible for any injuries or damage of properties that might occur during event.
Please do NOT wear High Heels in order not to damage turf
Drones are strictly PROHIBITED! Hazardous items and/or items which can be regarded as weapons are also not allowed. Please refrain from bringing any such items to the venue.
For more information, please refer to The Japan Club Of Kuala Lumpur.