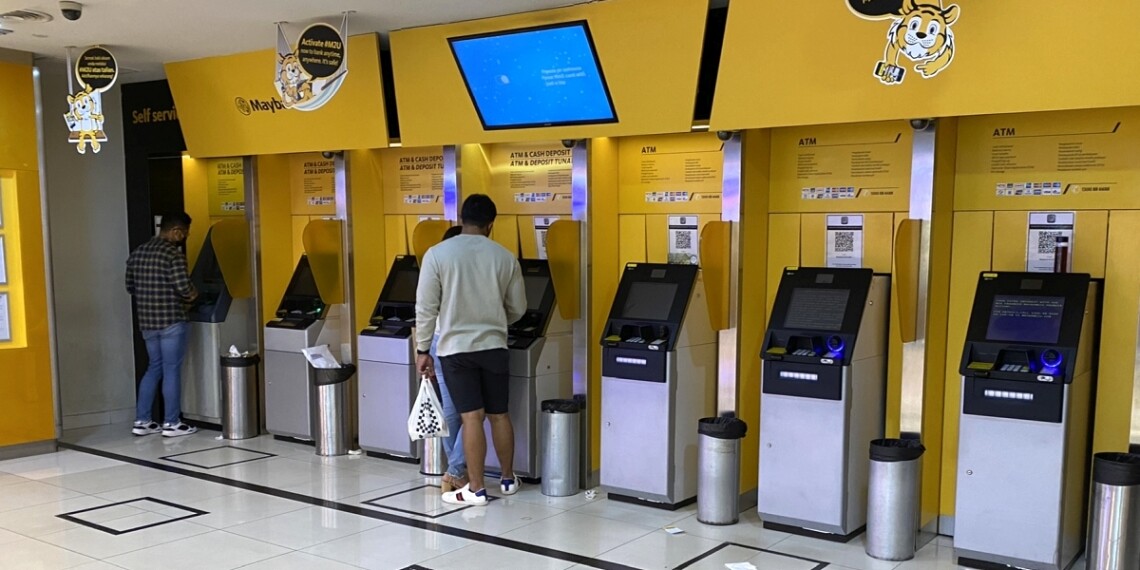 Besides CIMB, more Malaysian-based banks including Maybank, Ambank, Bank Islam, Public Bank, HSBC and Citibank have announced a resumption of the RM1 fee for interbank cash withdrawals. This is the RM1 MEPS fee that's charged when you make a cash withdrawal from an ATM belonging to a different bank (e.g. using a Maybank card at CIMB ATM).
The RM1 interbank fee will be reinstated from the 1st of February 2022. The fee is not applicable if you withdraw cash from an ATM belonging to the same bank (e.g. using a Public Bank card at Public Bank ATM).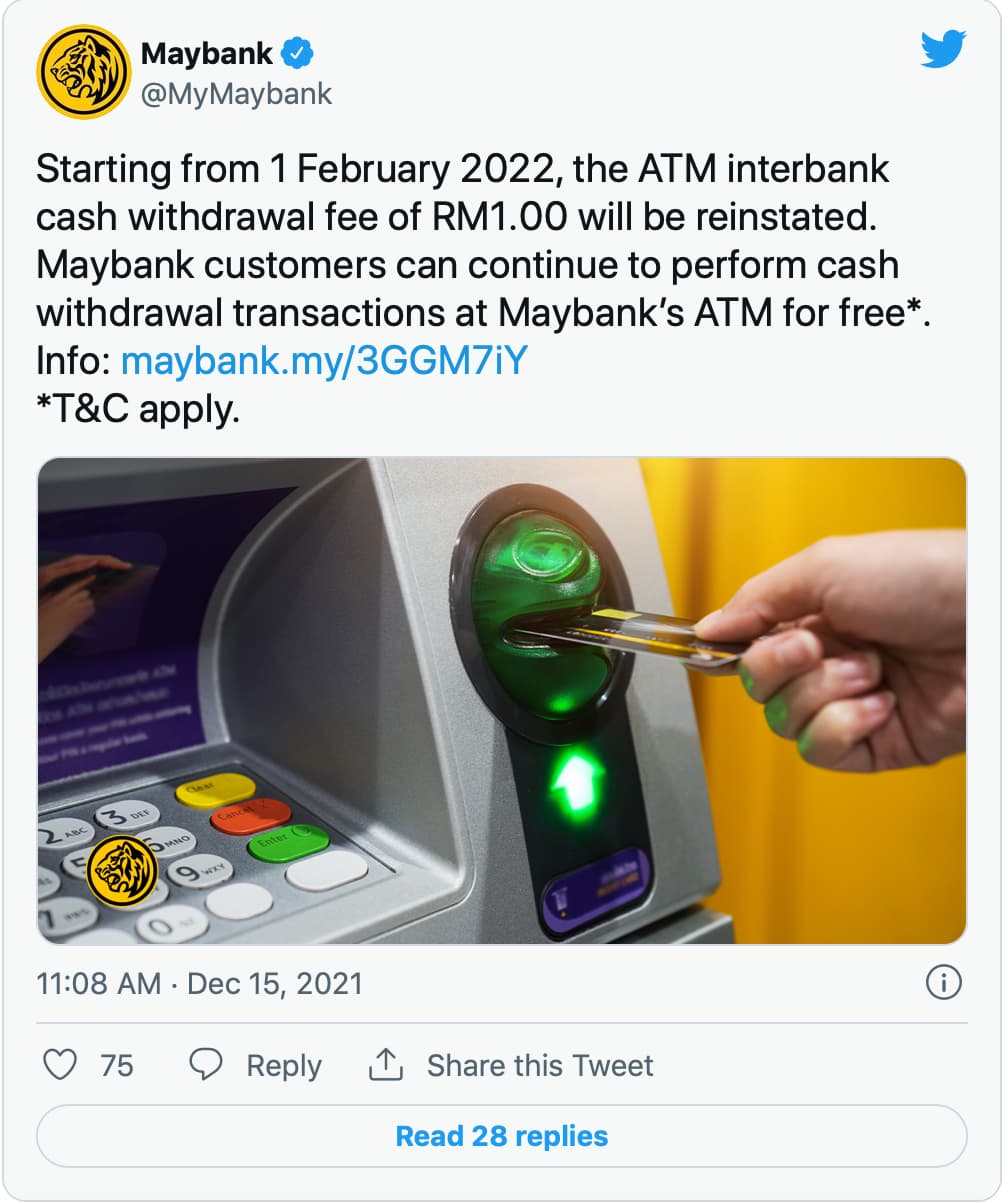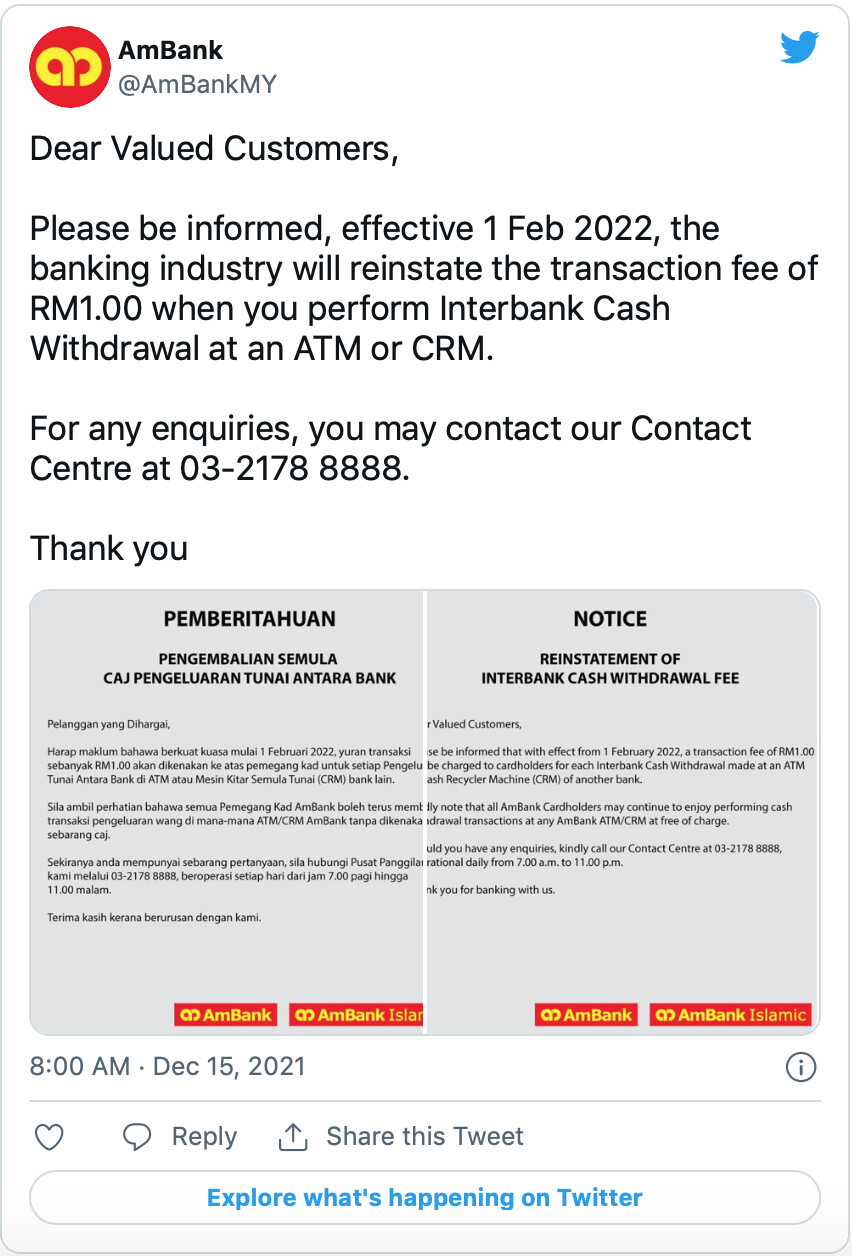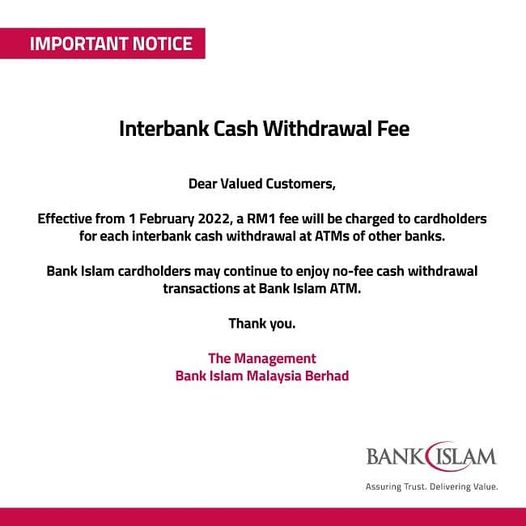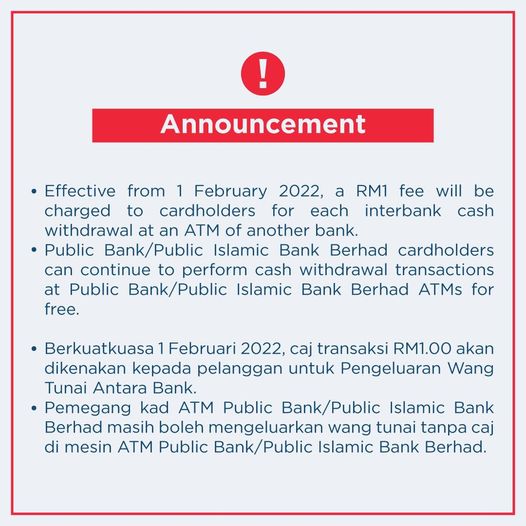 Dear cardholders, kindly be informed that a RM1 fee will be charged for each interbank cash withdrawal at ATM of other banks effective 1 February 2022.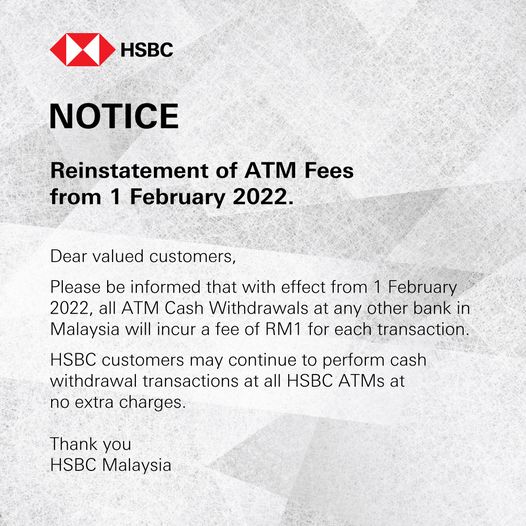 Starting 1st February 2022, all ATM Cash Withdrawals at any other bank in Malaysia will incur a fee of RM1 for each transaction.
HSBC customers may continue to perform cash withdrawal transactions at all HSBC ATMs at no extra charges.
For persons in Malaysia.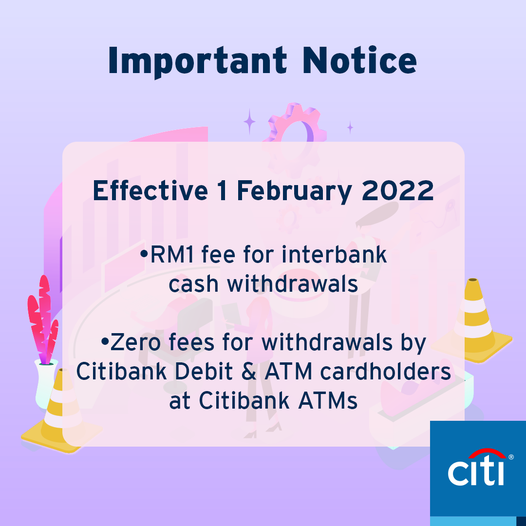 Effective 1 February 2022, all interbank cash withdrawals at ATMs will be charged a fee of RM1.00 per transaction.
There will be no charges for withdrawals at Citibank ATMs using your Citibank Debit & ATM Card.


The RM1 interbank fee for ATM was waived since the 6th of April 2020 to avoid overcrowding at the bank during the movement control order (MCO). The move also helps to provide convenience to customers as they can withdraw at their nearest ATM with the MEPS logo. During the MCO, all ATM machines were only allowed to operate from 8am to 8pm and eventually, the government lifted the operating hour restriction from 1st June 2020.
Pakatan Harapan's secretary-general Saifuddin Nasution Ismail has called upon the banks not to reinstate the RM1 interbank withdrawal fee. He said the banks are among the sectors that have reported healthy profits despite the pandemic and many middle-income households (M40) have fallen into the lower B40 group. Saifuddin has also urged the Finance Ministry to intervene immediately and cancel the reinstatement of the RM1 charge.
The pandemic has also encouraged the adoption of cashless transactions with more merchants now accepting eWallet payments. For greater interoperability between online banks and eWallets, Paynet has introduced DuitNow QR, the national QR code standard which allows merchants to display one QR code to accept payments from different providers. DuitNow QR is supported by over 30 providers which include Boost, GrabPay, Shopee Pay and Touch 'n Go eWallet. There's no extra charge when you scan a QR code that's issued by a different provider.
source: soyacincau