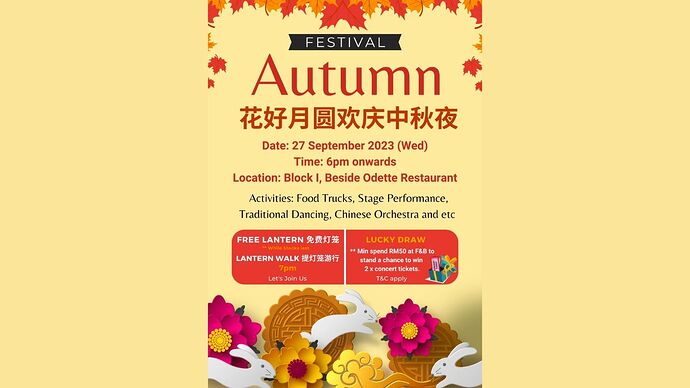 Location:
Block I, Beside Odette Restaurant
Time:
27 September 2023, 6:00 P.M. onwards
Introduction:
Come together with friends and family under the radiant moonlight for a memorable evening filled with traditional delights and joyous activities.
What To Expect:
At the Mid-Autumn Festival, anticipate a magical evening of cultural richness and togetherness. As the moon graces the night sky, you can look forward to savoring a delightful array of mooncakes, a symbol of unity and abundance. Join in on traditional lantern walks, Stage Performance, Traditional Dancing, Chinese Orchestra that capture the spirit of this ancient celebration. It's an occasion to forge lasting memories with loved ones and embrace the beauty of this cherished cultural tradition.
In addition to the cultural festivities, we're excited to announce that there will be a delectable lineup of food trucks at the event. You and your family can indulge in a wide variety of mouthwatering cuisines, adding a delightful culinary dimension to your Mid-Autumn celebration. And that's not all, we've prepared an exciting lucky draw activity that promises fantastic prizes.
We cordially invite you to join us in celebrating the Mid-Autumn Festival, a time of unity and festivity. So, come hungry, bring your loved ones, and join us for a night of cultural immersion, gastronomic delights, and the chance to take home some incredible surprises.