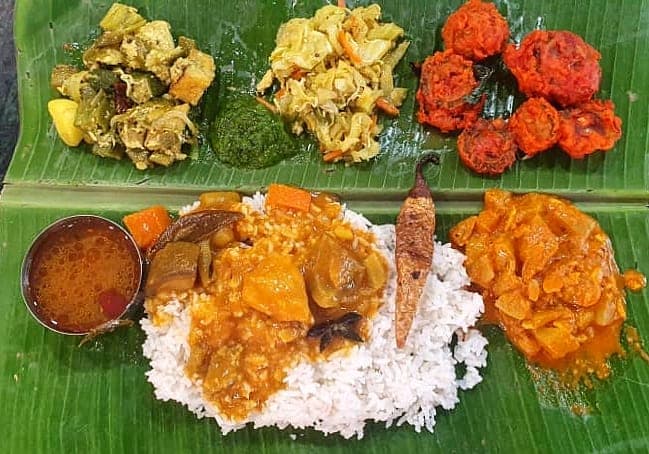 Image Source : Facebook Dmaharaanees
Location:
NO 33-G Block C Tanming Boulevard Jalan MJ 3/1 Taman Meranti Jaya 47100 Puchong, Selangor, Malaysia
Operating Hours:
Monday - Sunday : 10:00 AM - 10:00 PM
Introduction :
D'maharaanees Banana Leaf is a highly regarded restaurant located in Puchong, Selangor. With a reputation for serving authentic and delicious Indian cuisine, it has become a popular choice among locals and visitors alike. The restaurant specializes in the traditional South Indian dining experience, where a fragrant banana leaf is used as a plate to serve an array of flavorful dishes. From mouthwatering curries to aromatic biryanis and delectable vegetarian options, D'maharaanees Banana Leaf takes pride in offering a diverse menu that caters to different palates. With its warm and inviting ambience, attentive service, and commitment to quality, the restaurant promises a memorable dining experience for those seeking an authentic taste of Indian cuisine.
Location and Accessibility :
D'maharaanees Banana Leaf is conveniently located at NO 33-G Block C Tanming Boulevard, Jalan MJ 3/1, Taman Meranti Jaya in Puchong, Selangor, Malaysia. The restaurant's central location makes it easily accessible to both residents and visitors in the area. Whether you're exploring Puchong or specifically seeking out the authentic flavors of Indian cuisine, D'maharaanees Banana Leaf is within reach.
Operating Hours :
D'maharaanees Banana Leaf welcomes diners throughout the week with its generous operating hours. From Monday to Sunday, the restaurant is open from 10:00 AM to 10:00 PM, ensuring that you can satisfy your cravings for delicious Indian cuisine at any time. Whether you're looking for a hearty lunch, a delightful dinner, or even a late-night meal, D'maharaanees Banana Leaf is ready to serve you. With its extended hours, you can conveniently plan your visit and enjoy the authentic flavors and aromatic spices that the restaurant has to offer.
What to expect :
Customers visiting D'maharaanees Banana Leaf can expect a delightful dining experience with several key elements. Firstly, they can anticipate the authentic flavors of Indian cuisine, prepared with care and using high-quality ingredients. From aromatic curries to flavorful biryanis and traditional banana leaf meals, the menu promises a satisfying culinary journey. Additionally, customers can expect warm and friendly service from the staff, creating a welcoming ambience throughout their dining experience. The restaurant's cozy ambience and attention to detail in presentation and taste further contribute to the overall customer satisfaction. Furthermore, customers can rely on D'maharaanees Banana Leaf to provide a clean and comfortable environment, ensuring a pleasant and enjoyable meal.
Conclusion :
In conclusion, D'maharaanees Banana Leaf in Puchong, Selangor, is a highly recommended restaurant that offers an authentic Indian dining experience. With its central location, accessible operating hours, and a menu filled with delicious dishes, it caters to the diverse preferences of customers. The restaurant's commitment to quality, warm service, and inviting ambience create a memorable and satisfying dining experience.