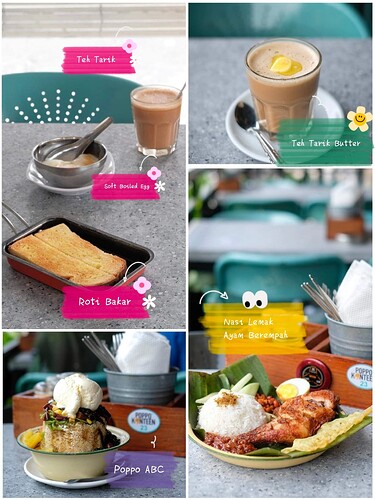 Image Source :
Facebook Poppo Kanteen Officia
l
Location:
55G Jalan Puteri 1/4, Puchong 47100 Malaysia
Operating Hours:
Monday - Sunday : 9:00 AM - 11:00 PM
Introduction :
Poppo Kanteen Puchong is a renowned restaurant located in Puchong, Selangor, Malaysia. With a prime location and a reputation for serving delicious food, it has become a popular dining destination for locals and visitors alike. At Poppo Kanteen Puchong, you can indulge in a delightful culinary experience that showcases the vibrant flavors of Malaysian cuisine. The restaurant offers a diverse menu featuring a range of authentic Malaysian dishes prepared with fresh ingredients and expert craftsmanship. From traditional favorites like Nasi Lemak and Char Kuey Teow to mouthwatering curries and sizzling stir-fries, there is something to satisfy every palate.
Location and Accessibility :
Poppo Kanteen Puchong is conveniently situated at 55G Jalan Puteri 1/4 in Puchong, Malaysia. The restaurant's location offers easy accessibility for both locals and visitors alike. Whether you're exploring the vibrant city or residing in the nearby areas, reaching Poppo Kanteen Puchong is hassle-free. The restaurant's strategic position ensures that it is easily reachable by various modes of transportation, including private vehicles and public transportation
Operating Hours :
Poppo Kanteen Puchong welcomes guests throughout the day with its generous operating hours. From 9am to 11pm, this restaurant in Puchong, Malaysia, offers a convenient and flexible schedule to accommodate patrons looking for a delightful dining experience. Whether you're seeking a hearty breakfast, a satisfying lunch, or a late-night dinner, Poppo Kanteen Puchong is ready to serve you with their delectable Malaysian dishes
What to expect :
Customers visiting Poppo Kanteen Puchong can expect a range of satisfying experiences that contribute to the restaurant's popularity and positive reputation. Here are some things that customers typically expect when dining at Poppo Kanteen Puchong:
Authentic Malaysian Cuisine: Customers can look forward to savoring authentic Malaysian dishes prepared with care and using high-quality ingredients. The restaurant takes pride in showcasing the diverse flavors and culinary traditions of Malaysia, offering customers a genuine taste of the local cuisine.

Delicious and Flavorful Food: Customers expect the food at Poppo Kanteen Puchong to be flavorful, well-presented, and satisfying. From classic favorites to specialty dishes, the restaurant aims to deliver a memorable dining experience through its delicious offerings.

Warm and Welcoming Ambiance: Customers appreciate a warm and inviting atmosphere when they dine out. Poppo Kanteen Puchong strives to create a cozy and friendly ambiance where guests can feel comfortable and enjoy their meals in a relaxed setting.

Excellent Service: Attentive and friendly service is an essential aspect of a positive dining experience. Customers expect the staff at Poppo Kanteen Puchong to be attentive, knowledgeable, and willing to assist with menu recommendations or special requests.

Clean and Hygienic Environment: A clean and hygienic dining environment is of utmost importance to customers. Poppo Kanteen Puchong understands this expectation and maintains a clean and well-maintained restaurant space to ensure the comfort and satisfaction of its customers.

Reasonable Prices: Customers often appreciate reasonable pricing that offers value for money. Poppo Kanteen Puchong aims to provide customers with a balance of quality food and reasonable prices, making it an attractive option for those seeking a satisfying meal without breaking the bank.
Conclusion :
In conclusion, Poppo Kanteen Puchong is a highly regarded restaurant in Puchong, Malaysia, that delivers on customers' expectations for authentic Malaysian cuisine, delicious and flavorful food, a warm and welcoming ambience, excellent service, a clean environment, and reasonable prices. Whether you're a local or a visitor, Poppo Kanteen Puchong offers a memorable dining experience that showcases the vibrant flavors of Malaysia. From the diverse menu to the cozy atmosphere, this restaurant strives to create a satisfying and enjoyable culinary journey for every guest. With its commitment to quality and customer satisfaction, Poppo Kanteen Puchong has earned its reputation as a must-visit dining destination in Puchong.