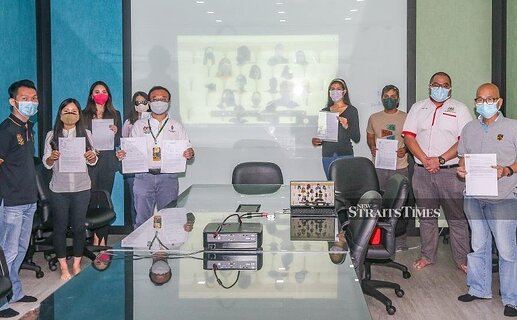 KUALA LUMPUR: Scammers who target animal lovers on social media have been duping them into donating cash to fake animal-related causes.
The scammers, who would claim to be running dog shelters, will gain sympathy from animal lovers when they post doctored photos of animals on social media to request for donations.
The case was uncovered following complaints from three women who were victims of the scam.
They had filed a complaint to the Kepong DAP Public Complaints Bureau to expose the scammers' wrongdoing.
Lin Ye Shan, 31, a sales executive from Subang said she has been blindly donating to a fake animal shelter operator for a year.
"I used to visit an animal rescue page 'My Pets Haven' on Facebook and one day an 'Erlang's Dog' shelter asked for public donations to feed and care for 59 dogs at its shelter.
"I didn't hesitate and contributed to the cause several times since 2017. It was just recently that I knew we had been scammed all this while," she said when met at Kepong Metro Prima today.
She said checks with the authorities showed the syndicate has been raking in thousands of ringgit of donations every month.
"We tried going to the addresses provided in the Companies Commission of Malaysia, but the shelters did not exist. Some of these shelters are registered under the RoS (Registrar of Societies) as corporate companies instead of charitable movements housing more than 50 strays, as what was advertised on the Facebook page," Lin said.
She said there are at least 10 victims who have been duped into donating to these fake animal shelters with police reports lodged in Subang, Ampang and here.
Alexis Sue Ann, 26, from Bangsar said many dog lovers and generous people have been donating between RM1 to RM10,000 to the fake dog shelters, without verifying the authenticity of the shelters.
The TV host-cum-actress said scammers have multiple Facebook accounts where they use to cheat the public.
"These scammers are so smart that they even go to the lengths of using Photoshop editor to make an animal look sick and handicapped in photos.
"They will then post the edited photo on their account seeking donations for the dogs which are in recovery care."
Alexis said now that the scammers' cover has been exposed, she doubts that the animals they claim to have rescued or treated even exist.
Meanwhile, Kepong member of parliament Lim Lip Eng's political secretary, Yew Jia Haur, advised the public to be more careful when making donations.
"Please check and verify the content of a post seeking donations online, before you making any donation. Don't be easily fooled by scammers like this who take advantage of people's generosity," he said.
Yew said the Kepong MP's office, on behalf of the victims, will report the cases to police, Bank Negara Malaysia and Malaysian Communications and Multimedia Commission for them to take immediate action.
So far, the NST has been unable to get the police for their comments on this case.
Source: New Straits Times