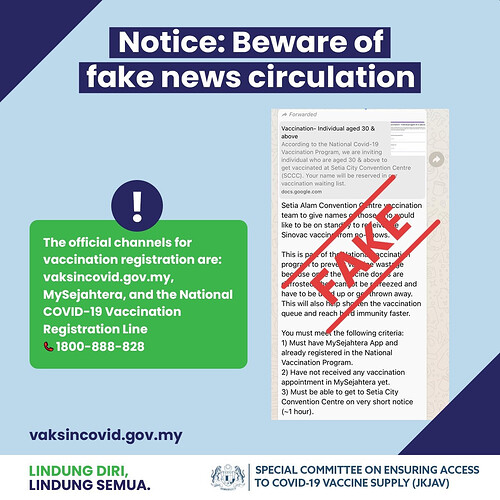 The special committee on ensuring access to COVID-19 vaccines (JKJAV) has issued a notice about random Google Forms that have been circulating online. Some of these web forms are shared on WhatsApp claiming to be vaccination centres looking for people to register for their waiting list.
Unfortunately, it is hard to determine the creator behind the forms. There's a concern that personal data collected by these forms might be used for illegal purposes and it is easy for anyone to create a Google Form.
The JKJAV has urged the public to only register for the COVID-19 vaccines through official channels which include MySejahtera or on their website. Alternatively, you can also call in to register at 1-800-888-828.
As we've posted recently, there are people who have gotten their appointment but didn't receive any notification or SMS. It is recommended that you check your MySejahtera app regularly for potential appointments. Alternatively, you can also check your status on the website.
For those who are aged 60 years and above but didn't get an appointment, you are advised to submit a report via MySejahtera's Helpdesk. Just go to the home screen, select Helpdesk and tap on "B. 60 years old and above but haven't received my appointment".
Source: SoyaCincau