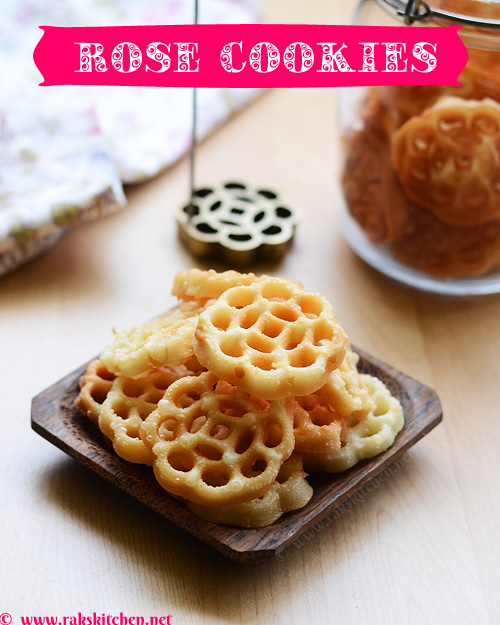 Image credit : rakskitchen
Prep Time : 20 minutes | Cook Time : 25 minutes
Ingredients
1 cup Rice flour
¼ cup All purpose flour/ maida
¼ cup Sugar
¾ cup + 1 tbsp Coconut milk
¼ tsp Vanilla extract
⅛ tsp Salt
Direction
First extract coconut milk by grinding 1 & 1/2 cup fresh grated coconut with 1/2 cup luke warm water.

Strain and collect coconut milk by squeezing the ground coconut. I got approximately 3/4 cup plus little more around a tbsp.

Take rice flour, maida in a mixing bow and mix well adding salt. Add sugar, coconut milk and mix using a whisk. Add vanilla extract, little more water as required to make a thick batter .

Heat oil, place the rose cookie mould inside. Once hot, put the flame to low of medium and take the mould (quickly let the excess oil drain). Dip 3/4 of the mould alone in the batter gently and take out slowly.

Dip into hot oil (should not keep inside, hold it without touching the bottom) and gently give the mould jerks up and down.

After few shakes, the batter by itself comes out the mould (First few times it might not so use a fork to push it down, but it will come off easily after 2-3 batches). Cook in medium flame until the shhhh sound reduces, turns golden in colour.

Flip and cook if needed, drain over paper towel. It will look soft when you drain, but gets crisp as it cools down.