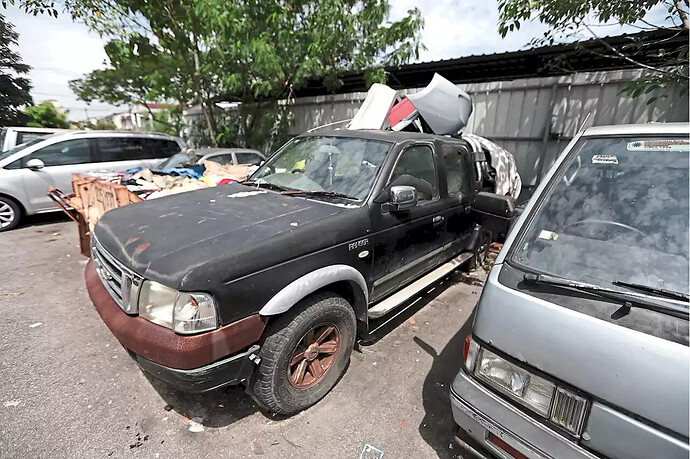 A pickup truck missing various parts in Jalan TK 2/1B is one of many abandoned vehicles found in various locations in Taman Kinrara Section 2, Puchong.
TAMAN Kinrara Section 2 in Puchong, Selangor, has become a hotbed for abandoned cars and residents feel the situation is affecting their safety and well-being.
In Jalan TK2/1B, the sight of a derelict pickup truck without a steering wheel and its cargo bed used as a rubbish bin with tree branches and leaves is an eyesore.
Along the same road is a red Proton Saga that has been completely stripped.
"This is a gateway to the land of abandoned cars," said Taman Kinrara Batu 7½ Residents Association chairman Alvin Lee, pointing to the rows of old cars along the streets from Jalan TK2/1A up to Jalan TK2/1E.
The 46-year-old was upset that their repeated complaints to the local council had fallen on deaf ears.
"Roads here have become a dumping ground for abandoned cars.
"We have highlighted this matter many times to the local authorities, but the problem never goes away; in fact it is getting worse," said Lee.
Fitness instructor Jamie Teh, 23, said she felt unsafe in her own backyard and stopped jogging there months ago.
"The high volume of abandoned cars in the area gives the impression that I am living in a scrapyard," she said.
Association secretary Dinesh Kumar, 36, said some of the parking spots meant for residents were taken up by a car workshop nearby that parks their customers' cars there.
"Some of these cars have been here for years and the area surrounding the shop is filled with cars; some don't even have road tax, tyres, steering wheels or windows," he added.
Loganathan Ramasamy, 57, said the workshop's cars took up precious parking spots, thereby denying visitors looking to park.
"We have a funeral parlour here, and many times during a funeral service there was no space for the mourners to park their vehicles," he said.
The residents felt the problem of abandoned cars had decreased the value of their property and resulted in many people moving out and putting their houses up for sale or rent.
"These cars are dumped here by irresponsible people who are using the road as their personal storage space," said resident Lokman Ariff, 61.
"I have seen cars parked in front of fire hydrants for days and weeks with no action taken against the culprits," he said.
StarMetro visited the site and noticed many cars were devoid of road tax, tyres and seats.
Some vehicles had summonses from Subang Jaya City Council (MBSJ) pasted on the windscreens or windows, while others had the notices ripped off.
The zone area MBSJ councillor Pravin Murali said he had visited the site when the association brought the matter to his attention recently.
"I even paid a visit to the car workshop owner. He admitted that some of the cars were his, and to his credit he has been removing the cars, at least the ones that were sent for repairs.
"But there are cars left by others to rot.
"We will get MBSJ to place stickers on the cars, and if the cars are not removed by the rightful owners after the warning period is over, the city council will tow it away," said Pravin.
When contacted, Kinrara assemblyman Ng Sze Han said he would get MBSJ to investigate and take action
Source : The Star