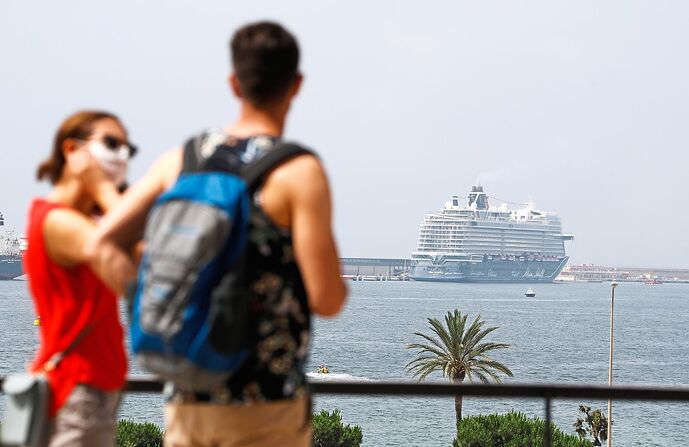 As the number of people who are getting vaccinated against the coronavirus continues to grow around the world, is it only a matter of time until we can travel without worrying? Don't get your hopes up, say experts, warning that risks remain.
Here are some things that all travellers should be aware of:
1. Vaccination is the best protection
Above all else, the most important piece of advice is that you should not travel if you are not vaccinated, says Gerhard Boecken, a travel medicine specialist from Hamburg, Germany.
Being vaccinated will not only give you protection, but it also ensures you won't have to use inadequate or overburdened hospitals in the host country you're visiting.
Torsten Schaefer, a spokesman for the German Travel Association (DRV), sees a further advantage to being vaccinated: It makes it easier for tourists to travel across borders.
And depending on the country's coronavirus rules, it ensures that you will be able to go to restaurants or museums, for example, adds Schaefer.
2. Information is important
However, relying on your vaccine to protect you isn't enough, say experts. Mirko Jacubowski from Germany-based A3M Global Monitoring advises travellers to read up on their destination, including the incidence rate, government travel advice and travel regulations.
3. Don't forget other diseases
When choosing a holiday destination, it's a good idea to make sure that there's an adequate health system in place. Especially because of the pandemic, it's even more important these days to seek medical advice before you travel to learn about ways you can avoid contracting any other travel-related diseases.
4. Good travel insurance is a must
To ensure that a hospital visit in a foreign country doesn't cost an arm and a leg, experts advise looking into comprehensive insurance.
Travel health insurance should cover Covid-19 as well as include a policy allowing repatriation of the person insured in "medically reasonable" cases, not only "medically necessary" cases, say experts.
5. Don't be reckless
Travelling in a pandemic still carries risks, even if you're fully vaccinated, well-prepared and insured. Even vaccinated people can become infected, and even if they don't become ill, they could become a carrier or have to be isolated due to their contacts.
It's still a good idea for everyone to keep their distance, follow hygiene rules and wear a mask when necessary, no matter where they are, says Boecken.
6. Consider how you travel
Are you taking a package tour or planning your own adventure? Going by bus, plane or your own car? Staying in a hotel or on a cruise ship? These factors influence how much risk you face in travelling, says Boecken.
In general, people on a package tour are better protected if something goes wrong, according to Jacubowski.
"Tour operators have a duty of care towards their customers, while individual travellers are very often left to their own devices," he says. This also applies to any cancellations or re-bookings of the trip if, for example, a travel warning is issued for the destination country.
7. Be flexibile
If you weigh the risks and still decide to go on holiday, flexibility and spontaneity are a must. For example, booking accommodation that allows you to cancel at short notice could pay off if something happens. As Schaefer points out, it's hard to predict right now how things will be in the future. – dpa
source: the star