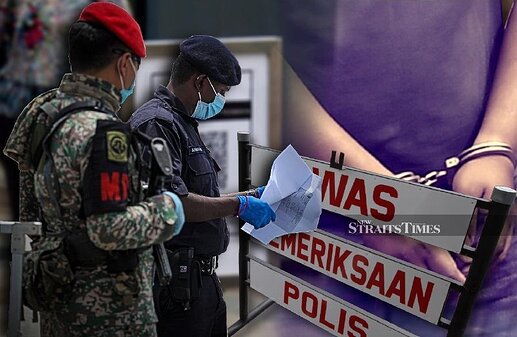 KUALA LUMPUR: A total 495 people were arrested nationwide for flouting the Movement Control Order standard operating procedures yesterday.
Senior Minister (Security Cluster) Datuk Seri Ismail Sabri Yaakob said from those arrested, 468 individuals were issued compounds while 27 were remanded.
Among the offences recorded were failure to register details before entering premises (143), not wearing facemasks (126), disobeying the movement control order (84), failing to observe physical distancing (47), engaging in activities at entertainment outlets (15), travelling to other state/district without permission (8) and others (72).
He said the Compliance Operation Task Force led by the police conducted a total 81,823 inspections nationwide.
Premises checked include 4,410 supermarkets, 5,362 restaurants, 1,820 factories, 3,968 banks, 1,057 government offices and 2,551 stalls.
On border control, Ismail Sabri said 29 illegal immigrants were nabbed with eight land vehicles seized in Op Benteng yesterday.
He added that 411 roadblocks were set up by police, armed forces, Malaysian Maritime Enforcement Agency, Malaysian Border Security Agencies and other related agencies.
A total 144 sanitation operations covering 55 red zones, orange zones (5) and yellow zones (13) were conducted by the Fire and Rescue Department along with local government enforcement personnel.
Ismail Sabri said all 576 international returnees were instructed to undergo quarantine at designated centres.
Since the mandatory quarantine at designated centres for returnees was enforced in July 24 last year, a total 207,478 individuals had arrived in Malaysia.
Of the total, 7,471 are still observing their quarantine, 197,944 had been allowed to return home and the remaining 2,063 were taken to hospital for treatment.
He said only four out of the 160 foreign workers who tested under the mandatory exercise were found positive.
"Cumulatively, the Human Resources Ministry had informed that 694,855 foreign workers had been tested. Of the number, 10,284 were tested positive."
Source: New Straits Times