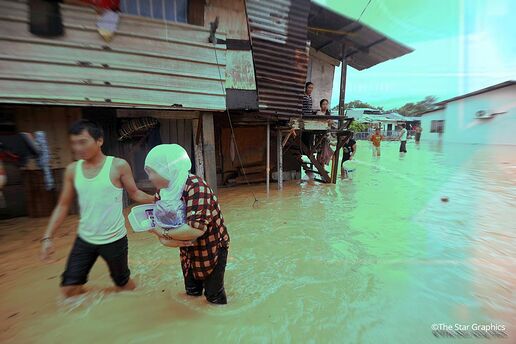 JOHOR BARU: The number of flood victims in Batu Pahat and Pontian has risen from 194 people from 59 families on Monday (Sept 26) at 8am to 252 people from 73 families at noon.
Johor Civil Defence Force spokesman said the number of temporary relief centres in the two districts had also increased from four to five.
"There are two centres in Pontian and three in Batu Pahat.
"The Pontian centres housed 79 victims from 25 families while 172 people from 48 families are taking shelter at the Batu Pahat centres," he said in a statement.
The spokesman said the victims seeking shelter at the two centres in Pontian were from Kampung Sungai Mulih, Pekan Nanas and Kampung Parit Sapran.
Others were from Kampung Parit Haji Omar, Jalan Mohsin, Kayu Ara Pasong, Kampung Parit Hj Siraj, Parit Lapis Kayu Ara Pasong and Kampung Parit Abdul Rahman.
The victims at the Batu Pahat centres were from Kampung Seri Bengkal, Kampung Bintang Peserai, Kampung Dalam, Kampung Sungai Suloh, Kampung Sungai Suloh Besar and Kampung Patah Pedang.
Source:The Star