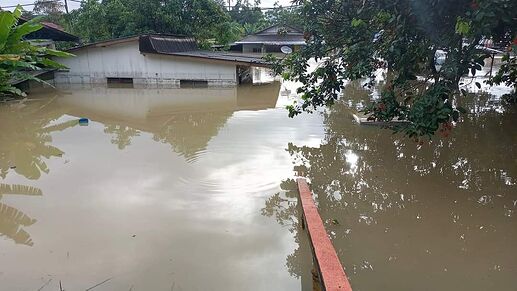 SOME 20 people including a disabled person in a wheelchair, seniors and children are still stranded in the flood at a house located in Kuala Sg. Baru in Batu 13, Puchong.
Mohd Rizuwan Zaini, 33, is worried for the safety of his father - who is in his 70s - and his mother Fabhilah Yusof, as she is a disabled person in a wheelchair.
His parents live in a village house located on the higher ground. Yesterday, about 3pm when the flood started to rise some 18 others from the village seeked refuge at his parent's house. However by 3.30pm cars have started to submerge in the flood. The village is still submerged in flood water about six foot tall.
"Many villagers managed to escape and rescued themself by climbing over the hills and headed to Putra Avenue," said Mohd Rizuwan.
"My mom can't because she is in a wheelchair. They have no electricity and they can't recharge their phones. I am very worried for their safety," he added.
He asks for someone to send boats to rescue some of the stranded villagers, especially his mother.
"I can't find a boat nor can I reach the disaster relief numbers circulated. We feel helpless," said Mohd Rizuwan.
His parents are stranded at Lot 18F, Kampung Kuala Sg. Baru, Batu 13, Puchong.
Source: The Star