We found 10 Multivitamins supplements you can buy in Malaysia as below. If you have any other recommendations besides these, please reply here.
1. Nova Lifefit Gold
It is a daily multivitamin formula containing Alpha Lipoic Acid (ALA), Methylcobalamin (as B12), Vitamin K1, and plant extracts. The plant extracts include grape seed, green tea, turmeric, and orange. It contains a functional dose of 24 vitamins and minerals in every tablet, making it the perfect daily supplement for modern, busy lifestyles.
2. Blackmores Multivitamin and Mineral
Blackmores is another staple brand in Malaysia which offers a range of vitamins and multivitamins for general health and wellbeing. You can't go wrong with Blackmores Multivitamin with Mineral as it contains a good mix of essential vitamins and minerals for optimal nutrition. You only need to take it once a day with meals.
3. Centrum Energy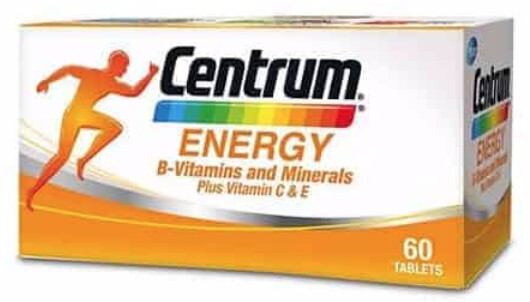 Constantly feeling tired? Hard keeping focused throughout the day? Centrum energy combines Vitamin B, Vitamin C, Vitamin E and minerals which helps promote sustainable, long-lasting energy throughout the day.
4. Flavettes Daily Plus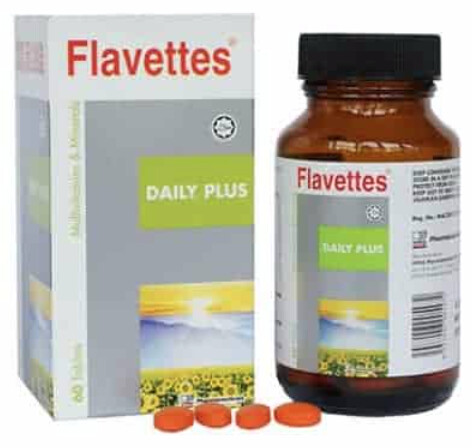 Flavettes Daily Plus is Flavettes' answer to the multivitamin competition. It contains the following ingredients: Vitamin A, Vitamin D, Vitamin B1, B2 and B6 as well as Vitamin C. These vitamins help keep the body healthy and energized all day.
5. Biolife Multivitamins with Minerals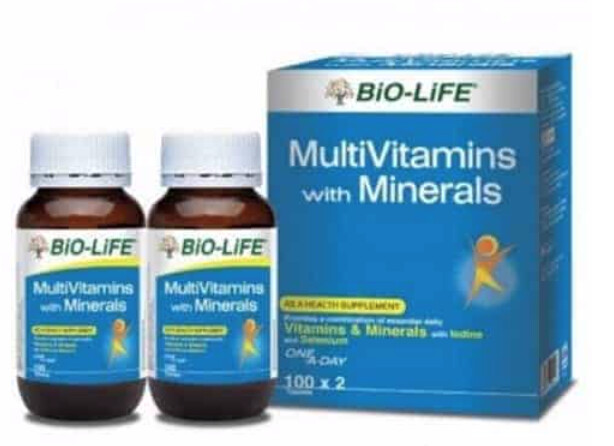 Biolife has their unique multivitamin combination of Vitamin A, D3, E, B1, B2, B3, B5, B6, B12, Vitamin C, Calcium, Magnesium, Iron, Zinc, Folic Acid, Biotin, Iodine and Selenium. The main benefits of Biolife's formulation include improving general health, energy utilization, bones, eyes, teeth, red blood cell formuation and cell protection. You will find that the more vitamins a multivitamin contains, the more expensive it will be, however this product is quite affordable.
6. Proviton Multivitamin and COQ10
Like its counterparts, Proviton's product contains essential vitamins, minerals, and nutrients to enhance and revitalise your well-being. Besides the usual vitamins, it contains 2 notable ingredients— Panax Ginseng Extract IDB which increases energy levels and optimises physical performance. Coenzyme Q10 (CoQ10) which boosts energy and stamina levels while supporting overall health. CoQ10 also reduces normal signs of ageing and rejuvenates health.
7. Blackmores Kids Multivitamins Minerals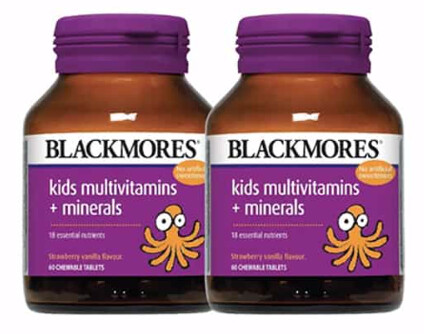 If you're looking for a multivitamin for your child, we would also highly recommend the Blackmores Kids Multivitamins + Minerals. The difference is that this supplement is formulated to suit the growing needs of your child.There are a total of 18 different nutrients which your child can benefit from. It'll help with his or her healthy mental and physical growth. This multivitamin is also easy for your child to eat as it is chewable with a yummy natural flavour. No artificial sweeteners are added so it's even healthier. The recommended dosage is 1 tablet a day for children between 2 to 6 years old. For older children from 7 to 12 years old, they can take 2 tablets a day.
8. Amway Nutrilite Daily Multivitamins
The Amway Nutrilite Daily Multivitamin has a total of 18 essential vitamins and minerals required in a healthy diet. There are no artificial colouring, flavours or preservatives used in this multivitamin. Instead, organic ingredients like alfalfa, watercress, parsley, spinach, carrots and cherries are used as a natural source for those vitamins and minerals. According to Euromonitor, Nutrilite is the number one selling vitamins and dietary supplement brand in the world. Therefore, you won't go wrong with the Amway Nutrilite Daily Multivitamin as your daily supplement!
9. Pharmaton Capsules
Do you feel tired, sleepy or weak during the day? If so, you need to try this Pharmaton Capsules. It gives you the vitamins and minerals you need to keep your energy levels up throughout the day. A key ingredient which helps in this is the ginseng extract which can immediately give you a boost of new-found energy. In Chinese medicine, ginseng has been used throughout the centuries for effective energy replenishment and nourishment.
10. Muscletech Platinum High Potency Multivitamin
If you have an active lifestyle, the Muscletech Platinum High Potency Multivitamin would be the perfect multivitamin for you. Not only does it have 18 different essential vitamin and minerals, it also contains key amino acids that help with muscle growth and recovery. For building muscle, this is the multivitamin you need besides your protein powder.
Source: esyms.com, findgoodbuy.com