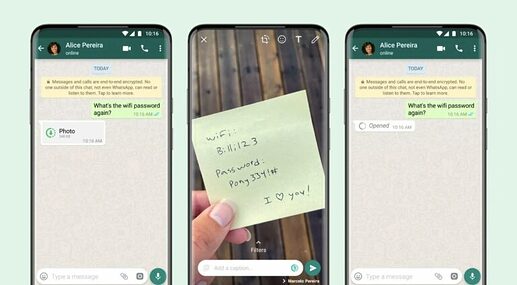 WhatsApp announces that they have rolled out a feature that lets users send out 'View Once' photos and videos to chats. The photos and videos will "disappear" after they have been opened, aiming to give users "more control over their privacy".
"While taking photos or videos on our phones has become such a big part of our lives, not everything we share needs to become a permanent digital record. On many phones, simply taking a photo means it will take up space in your camera roll forever," wrote WhatsApp.
The feature lets your friends and family using WhatsApp to only view the pictures and videos once, similar to the 'View Once' feature you can send on Instagram chats. It also has a similar vibe to Snapchat's disappearing messages feature.
"As with all the personal messages you send on WhatsApp, 'View Once' media is protected by end-to-end encryption so WhatsApp cannot see them. They will also be clearly marked with a new "one-time" icon," continued WhatsApp.
You can use the 'View Once' feature to send a photo of some new clothes you're trying on at a store, a quick reaction to a moment in time, or something sensitive like a Wi-Fi password. And seeing how often it is used on Snapchat, introducing something like it on WhatsApp might potentially be something we never knew we needed. But it's a little too early to tell.
Also, do note that users are still allowed to screenshot View Once photos, so it is still possible for anyone to keep it permanently. The feature is now available to users—just make sure you update the app.
Source: SoyaCincau