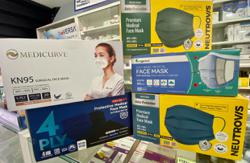 PUTRAJAYA: Is the Covid-19 rule mandating the wearing of face masks about to end?
Plantation Industries and Commodities Minister Datuk Zuraida Kamaruddin has dropped a broad hint that masks will no longer be compulsory after Hari Raya while Health Minister Khairy Jamaluddin has promised an announcement next week, even before Raya.
Speaking at an event at her ministry, Zuraida said: "I can take off my mask to speak, right? No problem, after Raya, it will be optional."
Khairy, however, only said more relaxations of Covid-19 curbs will be announced next week, ahead of the Hari Raya celebrations.
"Wait for next week," he said when asked about the face mask mandate at a press conference after an event at Masjid Tuanku Sultan Mizan Zainal Abidin here.
However, at a separate event in Hospital Putrajaya, Khairy said the government was prepared to remove more Covid-19 restrictions as the pandemic situation in the country has improved.
"Our case numbers are under control. The number of hospital admissions as well as Covid-19 death rates continue to go down.
"This also includes admissions into intensive care units.
"This is why the government is confident about announcing more and more Covid-19 rule relaxations. Today, we are able to hold this launch event. Construction projects can also be completed earlier.
"There will be more relaxations announced, ahead of the upcoming Hari Raya festivities," he said when opening a new block at the hospital.
Malaysia made masking up mandatory from Aug 1, 2020, and it remains in force although many countries have removed the requirement.
Khairy, however, reminded Malaysians not to be complacent about the Covid-19 situation, even though it has improved.
He said many countries made the mistake of declaring victory on Covid-19 too soon.
"Some countries thought they had beaten Covid-19, only to find their case numbers increasing.
"We do not want to be like these countries.
"They removed all restrictions and preventive measures and now they are facing new waves of infection.
"Let's not make the same mistake. From time to time, the Health Ministry will announce relaxations of curbs so we can return to our normal lives.
"But let us do it slowly. It is okay to be slower as long as we are safe," said Khairy.
On the new block he opened, he said it will house the Endocrine Institute.
Khairy said the decision to build the institute was in line with the government's aim to improve the country's endocrinology medical services.
"The demand for treatment services in Hospital Putrajaya's Endocrine Unit and throughout the country has contributed to the idea of establishing this institute," he said.
Also at the launch was Health director-general Tan Sri Dr Noor Hisham Abdullah.
Source: The Star