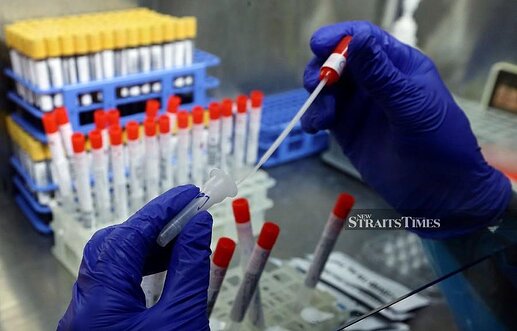 SHAH ALAM: All types of screening, including the use of antigen rapid test kits (RTK) are capable of detecting positive cases following the emergence of a new Covid-19 variant, Omicron.
Health Minister Khairy Jamaluddin said the matter was confirmed by experts from the Institute for Medical Research (IMR), taking into account the functional mechanisms of antigen RTK and the Reverse transcription-polymerase Chain Reaction (RT-PCR).
He said all types of screening are still capable of detecting Omicron, as the tests are made based on the presence of nucleocapsids or protein coverage that contain the Covid-19 virus genome.
"RT-PCR and RTK are still capable of detecting Omicron, because all these screenings detect nucleocapsids, not nail proteins on the structure of the Covid-19 virus.
"Thus, although omicron is said to have 32 mutations of its nail protein, it has so far not brought any change or effect on the effectiveness and accuracy of screening tests.
"Further details on this matter will be informed later, as Omicron is still new and there are many aspects we do not know about," he told a press conference after the National Institute of Health (NIH)-Health Ministry Covid-19 Frontliners Appreciation Ceremony here today.
Present were health director-general Tan Sri Dr Noor Hisham Abdullah and deputy Health director-general (Research and Technical Support) Datuk Dr Hishamshah Mohd Ibrahim.
Khairy was responding to whether positive cases from the Omicron variant, which has been categorised as a variant of concern (VOC) by the World Health Organisation (WHO), could 'avoid' being detected through RTK antigen tests.
Acknowledging the risks of the Omicron variant to Malaysia, Khairy said the current study would also be focused on the effectiveness of the vaccines against the infection of the new variant.
He said the matter would be informed by manufacturers of vaccines used in Malaysia such as Pfizer, Sinovac, AstraZeneca, CanSino and Johnson & Johnson (J&J).
"We will also look into the level of Omicron's virulence. So far, it was reported that in South Africa, those infected with this new variant experience only mild symptoms.
"Vaccine coverage in South Africa is low, but Omicron only triggers moderate symptoms. Although it is 'quite good news', but we have to wait for further details," he said.
Source: New Straits Times