KAMPAR: Two young children were killed after the car they were in was involved in an accident with a trailer at KM310 southbound of the North-South Expressway here.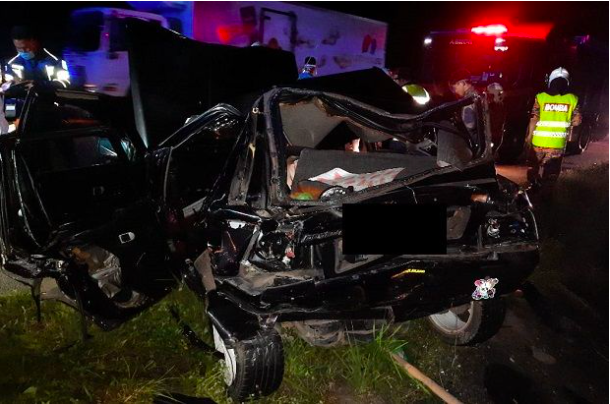 Kampar OCPD Supt Mohamad Nazri Daud said Nurqalesya Adriana Jaafar, 12, died on the spot while her brother, Muhammad Saiful Amry, nine, died at the Tapah Hospital after the accident on Friday (June 3) at about 2.30am.
Supt Mohamad Nazri said their father Jaafar Ahmad, 49, who drove the car, suffered injuries to his right leg.
"His two other children, Muhammad Yuszanizam, 14, and Nur Airin Batrisya, six, sustained light injuries.
"His 24-year-old fiancee Nurshazwana Abdul Wahab, who works as a cleaner, from Kuala Ketil, Kedah, was uninjured," he said.
"The driver of the trailer, M. Balamurugan, 47, from Sungai Petani, Kedah, was also uninjured," he added.
Supt Mohamad Nazri said the cause of the accident was still being investigated.
"Initial investigations believed that the car had earlier crashed into the back of a lorry.
"Following the crash, the engine of the car stalled," he said, adding that the lorry driver may not be aware of the collision.
"The trailer that was following behind the car could not evade and crashed into it.
"We are still trying to trace the lorry," he added.
Supt Mohamad Nazri also said Jaafar, who also works as a lorry driver, was on his way to send his children to his ex-wife's house in Seremban, Negri Sembilan.
"We also found that he does not have a driver's licence.
"We are investigating the case under Section 41 (1) of the Road Transport Act," he said.