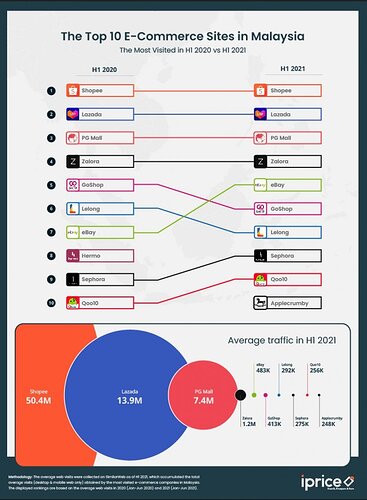 KUALA LUMPUR, 15 March 2012 - The new crown epidemic has changed people's spending habits and driven the growth of e-commerce platforms, with data showing that ShrimpShopee, Lazada, PG Mall and Zalora have been ranked in the top four since the first half of last year and are the most viewed e-commerce shopping platforms in the country.
iPrice Group and SimilarWeb analyzed the top 10 e-commerce companies and their growth in 2021 H1 for Malaysian e-commerce platforms. iPrice collected monthly e-commerce views (web only) for 2020 vs. 2021 through SimilarWeb, showing rankings for January to June 2020 and January to June 2021 The ranking shows the average number of web visits from January to June 2020 and from January to June 2021.
According to SimilarWeb, the top three most popular e-merchants include Shopee, Lazada, and PG Mall, all of which will see stable viewership in 2020 and 2021, respectively, with local e-commerce platform PG mall seeing a 158% jump in viewership compared to the same period last year.
According to the report, Singapore-based Shopee is the most visited e-commerce platform by Malaysians. From the first half of 2020 to the first half of 2021, Shopee's website visits grew by a whopping 54 percent, attracting an average of nearly 18 million visitors in a year.
"Over the past few years, Shopee has been refining their website features to cater to the changing consumer habits and purchases of the masses. Among the many new features introduced, SPay Later is allowing consumers to purchase items first and pay later to help consumers be able to meet their basic needs."
In addition, Lazada ranked second in average site visits with 13.9 million in the first half of 2021. The surge in e-commerce network visits is likely due to the platform's ongoing marketing programs, such as monthly bi-day flash sales, Lazada's birthday specials, free shipping features and more.
iPrice expects the e-commerce marketplace, which aggregates major categories, to continue to grow in the second half of the year. This is because e-commerce companies are actively seeking influential brand ambassadors - such as Jackie Chan and Hyun Bin - to attract consumers. At the same time, the two-pronged offer of free shipping and consumer discounts has become a major reason for consumers to shop online.
In addition, local e-commerce platform PG Mall, which is firmly in third place and has a share of the industry, is also a role model with a 158% surge in average traffic from the first half of 2020 to 2021.
"This is because more than 90% of small, medium and other businesses in Malaysia were affected by the epidemic and at risk of closure during the epidemic. the strong performance of PG Mall can be attributed to the platform allowing operators to turn their traditional business into an online platform to sell their products overseas."
"At the same time, their partnership with China's second largest e-commerce platform, Jingdong, early this year to promote local brands and products far beyond China has also become PG Mall's strongest advantage."
On the other hand, the survey shows that the outlook for the non-essential category is worrisome. Among them is the beauty category in Malaysia, which has continued to face difficulties this year. Compared to the first half of 2020, the first half of 2021 saw a significant decline of 38% in the beauty category sites.
"At this juncture, people are no longer aggressively buying the latest lipsticks, blushes or foundations as they did before. They are more likely to spend their money on everyday items or essentials."
Meanwhile, the fashion category sites are up just 5 percent compared to the first half of last year. As people don't have any weddings or dinners to attend, they are more likely to wear casual clothes to work on weekdays. The average number of views on sites such as wedding.com.my dropped significantly by 52 percent.
Source :东方