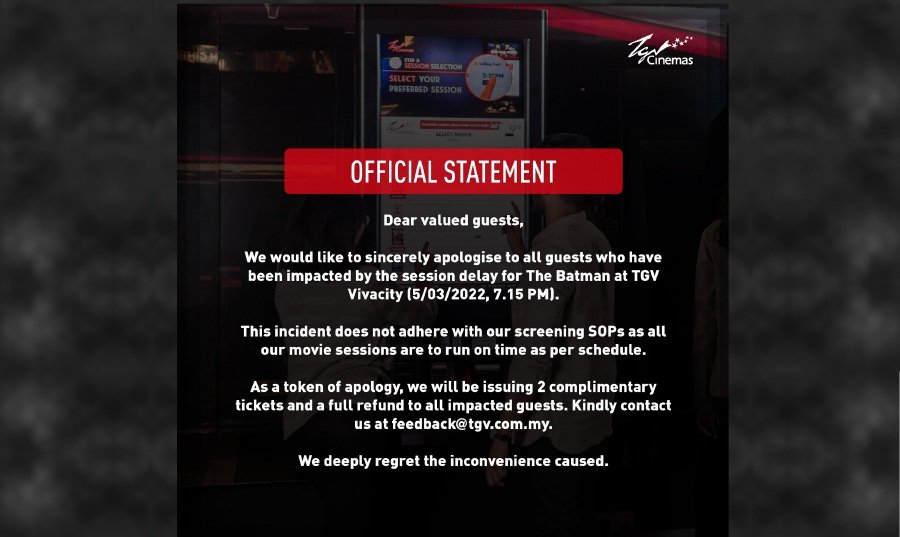 KUALA LUMPUR: TGV Cinemas has apologised to patrons who were inconvenienced when a screening of The Batman at its Vivacity Megamall branch in Kuching, Sarawak was restarted after playing for 45 minutes.
The popular cinema chain issued an apology on the matter via its official Twitter account yesterday.
Part of it read: "We would like to sincerely apologise to all guests who have been impacted by the session delay for The Batman at TGV Vivacity (5/03/2022, 7.15pm)."
"This incident does not adhere with our screening SOPs as all our movie sessions are to run on time as per schedule.
"As a token of apology, we will be issuing 2 complimentary tickets and a full refund to all impacted guests," it said.
This followed a previous post on social media that has since gone viral about the experience of one of the patrons during that particular screening.
Apparently, a staff member had entered the cinema hall to inform the audience that the three-hour-long DC superhero movie would be restarted after it had already been playing for about 45 minutes.
After being queried, the staff member allegedly notified the audience that the restart was due to several new patrons who had just entered the hall.
According to the Malay Mail, a spokesperson for TGV Cinemas was quoted as saying that the company was currently investigating the matter.
"We definitely do not cater to people coming in late, this is not the standard practice.
We're investigating the matter as we speak. It could have been a technical issue and maybe the message wasn't conveyed properly," said the spokesperson.
The spokesperson added: "We want to compensate our patrons who were affected by this, no questions asked. We will issue two complimentary tickets for any movie. All they need is to send their proof of purchase to [email protected]."
The Batman which is currently being screened nationwide is directed by Matt Reeves and stars Robert Pattinson, Zoë Kravitz, Paul Dano, Jeffrey Wright and Colin Farrell.
Source: New Straits Times