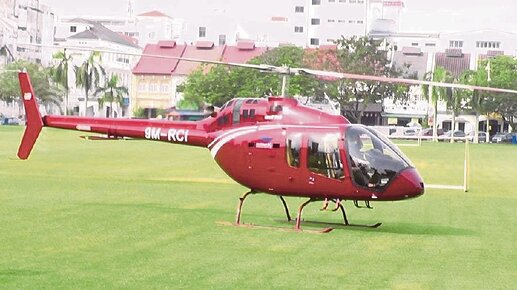 KUALA LUMPUR: Selangor police have denied issuing interstate travel permit which allowed a helicopter to travel from the state to Perak's Ipoh Padang to pick up 36 packets of nasi ganja recently.
Selangor police chief Datuk Arjunaidi Mohamed said the headline reported on an online news report yesterday was misleading and ill-intended.
"The interstate travel permit issued was solely for the aircraft to undergo maintenance work which involved travel from Selangor to Perak," he said in a statement last night.
Arjunaidi expressed regret over the online news report which read, "Permit given for inter-state travel to get nasi ganja (Ada surat kebenaran rentas negeri until ambil nasi ganja).
He said such headlines did not represent the true situation and could jeopardise the image of the police.
Checks showed that the headline in the news portal had since been rectified.
Perak police chief Datuk Mior Faridalathrash Wahid had today said Investigation Papers on the case will be referred to the Deputy Public Prosecutor for further action soon.
Their probe has so far revealed that the Bell 505 Global Ranger helicopter, owned by Systematic Aviation Service, had a permit to travel for maintenance work.
He said the investigating team has recorded statements from the complainant, the owner of the nasi ganja outlet, the helicopter company owner and all individuals involved in the case.
Mior Faridalathrash also said statements had been taken from the police station chief who gave the approval (interstate permit).
The case is being probed under Regulation 16 of the Prevention and Control of Infectious Diseases.
Source: New Straits Times