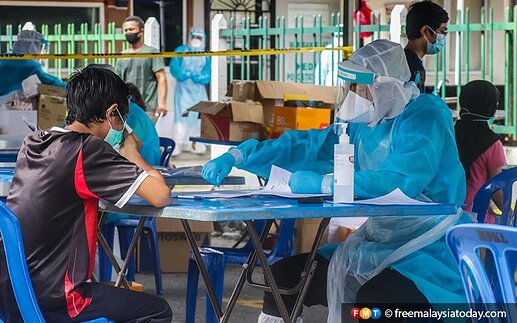 PETALING JAYA: Health director-general Noor Hisham Abdullah has urged the public not to lie to frontliners on Covid-19 symptoms as medical staff need to protect themselves.
"We need to be protected, too. We have families and colleagues. Don't victimise or cheat us," he wrote on his Facebook page.
This comes after a Facebook posting by a doctor highlighting an incident on Dec 23 where a patient lied about his condition despite being ill.
The posting shared by Noor Hisham showed that the patient had come for a scan and had recorded a normal temperature.
Frontliners who deal with patients with Covid-19 symptoms would take extra precautions and normally wear personal protective equipment (PPEs), the woman doctor said.
"This patient claimed he was healthy," said the doctor, adding that she then proceeded to prepare for a scan while following the normal SOPs.
But she was shocked to note the patient's lungs had an infection normally associated with a Covid-19 patient.
"When I asked him, he finally admitted that he had been coughing and had been down with a fever for a week," the doctor said.
The patient was later confirmed to be Covid-19 positive.
To ease her mind, the doctor said she did a Covid-19 medical swab which showed she had been infected by the coronavirus.
"I cried when I was told the results. I have to be separated from my children and husband as a result of contracting the disease," she said, adding that she was now concerned that she may have infected her family and her co-workers.
"I am really disappointed with this patient," the doctor said.
Source: FMT News