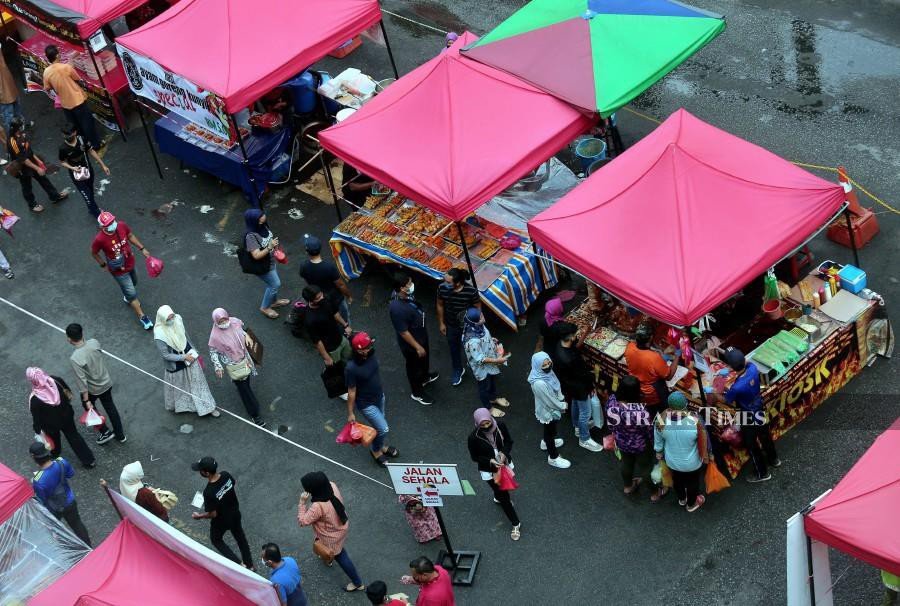 SHAH ALAM: There will be no bazaars in the six districts in the state which have been put under Movement Control Order until May 17 from tomorrow.
In outlining Selangor's Standard Operating Procedures, Menteri Besar Datuk Seri Amiruddin Shari said dine-ins would also be prohibited at all restaurants and hotels starting tomorrow, including for Ramadan buffet.
He added that grocery shops, petrol stations and restaurants were allowed to operate from 6am to midnight in the six districts – Hulu Langat, Klang, Petaling, Kuala Langat, Gombak and Sepang.
At a press conference today, he said schools would also be closed state-wide, starting tomorrow until the Hari Raya Aidilfitri holidays.
However, kindergartens would operate as usual to care for the children whose parents still need to work from the office.
As for Ramadan bazaars, Amiruddin said a one-off RM500 monetary assistance for each trader would be provided to help ease their business setback.
"Ramadan bazaars will no longer be allowed to operate starting May 8 (Saturday). They have been selling for 25 days since the fasting month started, so we believe their situation (earnings from business) is not so bad.
"Regardless, we will be providing a one-off assistance of RM500, to each of the 11,000 bazaar traders who will be affected by this directive after Hari Raya Aidilfitri celebration," he told a a press conference today.
However, he said Aidilftri bazaars and night markets would be allowed till 10pm during the MCO period but under strict SOP.
"Additional SOP will be enforced, including limiting the number of visitors at any one time, a numbering system, and the barring of children aged 12 and below from entering.
"Aidilfitri Bazaars and night market operators must appoint an officer to ensure visitors' compliance with the SOP."
Amiruddin warned that Aidilfitri bazaars or night markets found breaching the SOP would be ordered to cease operation immediately.
Source: New Straits Times