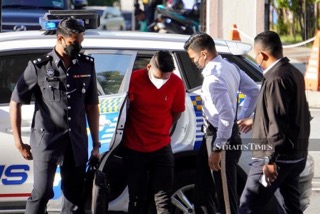 KUALA LUMPUR: A 30-year-old network engineer was fined RM8,000 and sentenced to five days' jail for driving his car in the motorcycle lane on the Federal Highway last month.
Videos of the accused, Rhuobanraj Rajandran, driving his white Honda Civic deliberately in the motorcycle lane at 2.40pm on March 18 had gone viral on social media, drawing public outrage.
There were at least three videos, all less than a minute long, showing Rhuobanraj driving recklessly along the motorcycle lane from Petaling Jaya towards the city centre.
It is understood that he drove in the car in the motorcycle lane for several kilometres before finally re-entering the highway near Midvalley Megamall.
Police arrested the man the same day after his videos emerged on Facebook and other social media platforms.
Rhuobanraj was charged at the magistrate's court yesterday under Section 42 (1) Road Transport Act 1987 for reckless driving and driving in a dangerous manner which could bring harm to others on the road.
Public prosecutor, Siti NurSyuhada Abd Rauf, read out the charges to the accused in front of Magistrate Amanina Mohamad Anuar.
The accused admitted to the offence.
In the event he fails to pay the RM8,000 fine, he will be imprisoned for four more months.
Amanina also ordered that Rhuobanraj's driving licence be revoked for a period of five years, effective from the date of his arrest.
Source: New Straits Times