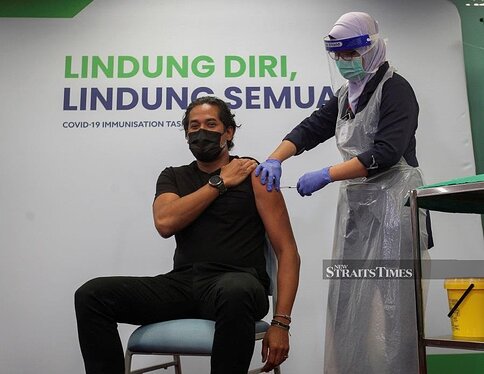 PETALING JAYA: China's Sinovac Covid-19 vaccine has been administered in Malaysia, with Science, Technology and Innovation Minister Khairy Jamaluddin being the first recipient.
Khairy, who is also the coordinating minister for the National Covid-19 Immunisation Programme, was vaccinated at Rembau Hospital's vaccination centre in Pedas, Negri Sembilan.
He announced in Mandarin that the vaccine he received was safe, as were others approved for use in Malaysia.
In a 24-second video posted on Twitter, Khairy joked that the Sinovac vaccine had also improved his command of Mandarin.
"I feel good. No matter what kind of vaccine it is, it is safe. Let us defeat the virus together. Protect yourself, protect everyone!" he said.
The Rembau MP noted that he had opted for Sinovac to counter "selective vaccine hesitancy".
His fellow Cabinet colleagues had earlier received the Pfizer-BioNTech vaccine and Khariy said he wanted to show that all vaccines brought into Malaysia and approved by the National Pharmaceutical Regulatory Agency (NPRA) were just as safe.
"I offered to be the first to receive the Sinovac vaccine on the basis of trusting the evaluation process of NPRA which ensures the safety and the effectiveness of the vaccines given in Malaysia.
"I have had no side effects after my first dose and I feel fine.
"I thank the frontliners of Rembau Hospital, especially head nurse Salhah Abdul Samad who administered the vaccine.
"We do not have to doubt Sinovac as it will be part of the national immunisation programme and more than 60 million doses have been given globally in many countries, " said Khairy.
He said he would receive his second dose after 21 days.
Khairy said as Sinovac could be stored between 2°C and 8°C, it would be used in areas which did not have facilities to store the Pfizer-BioNTech vaccine, which needed Ultra-Low Volume Freezers.
Developed by Sinovac Life Sciences Co Ltd, the first batch of the CoronaVac vaccine (popularly known as Sinovac) was approved by NPRA on March 2 and arrived in Malaysia on March 12.
Khairy also stated that the Health Ministry would continue with two doses for vaccines as its effectiveness had been recorded under clinical data.
Even the United States' Centers for Disease Control and Prevention in Atlanta stated that recipients were fully vaccinated after a second dose, he added.
He said the government was in the process of discussing mutual recognition of digital vaccination certificates to facilitate travel purposes, namely with China and Singapore.
Khairy also said that the RM2bil allocation announced by the Prime Minister on Wednesday was for the implementation of the National Covid-19 Immunisation Programme, and not for procurement of vaccines.
He added that the government was looking at further simplifying the process, including using digital rather than physical forms at vaccination centres prior to being vaccinated.
Relatives also can begin to register their elderly dependents on the MySejahtera app from today to enable them to be part of the second phase of the immunisation programme, which is expected to begin next month.
Source: The Star
Image Source: New Straits Times