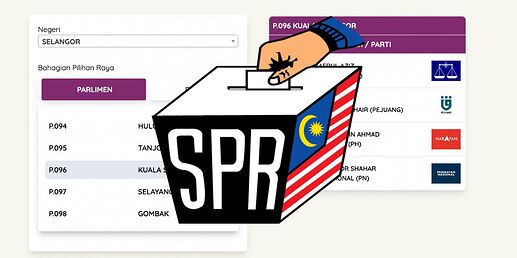 The 2022 Malaysian general election GE15 is coming up on 19 November 2022. MySPRSemak has an easy-to-access portal that helps you check your candidates.
Previously it can be used to check your GE15 polling location by typing in your IC number. Now the portal also had a section that says "Check Your Candidates" (Semakan Calon Pilihan Raya).
Steps to check candidates on your area

Go to MySPR Semak portal website
Select "Semakan Calon Pilihan Raya" which will guide you to two buttons—one for GE15, and one for the more specific "PRK DUN N.66 Bugaya".
Select the button for GE15 (Pilihan Raya Umum Ke-15).
Then, select the state (Negeri) (for example: Selangor).
You can then pick the polling area. If you're unsure of what your area is, you can go ahead and check your details in MySPRSemak's "Semakan Daftar Pemilih" section.
Picking the area will give you the list of candidates you can vote for, as well as which parties they represent.
You can now use this information to search for the candidates information. At least have some idea on candidate before go out and vote in the upcoming election.
Source: SoyaCincau