PETALING JAYA: A 24-year-old food delivery rider decided to put his work aside to help a senior citizen go home.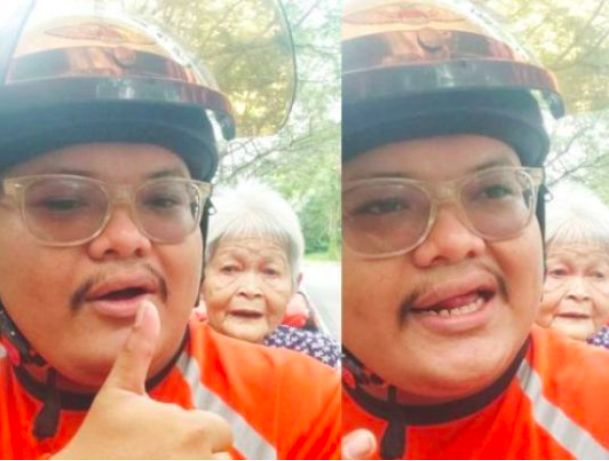 Muhammad Khuzaimie Lemat met an elderly woman who was lost on his way to work.
In a TikTok video that went viral on the Internet, he said the woman stopped him and asked for his help to send her back home.
"She told me to send her home. I took her on my bike but she kept on telling me to go further. She said her house number is nine.
"I wanted to go to work this morning, but this aunty stopped me and asked for my help to send her back home.
"I think this aunty doesn't know where her house is.
"I think I should take her to the police station, I'm afraid she's lost because she says she doesn't remember the location of the house," Muhammad Khuzaimie, who is also fluent in Mandarin, said.
When contacted by mStar, the Melakan said he met the woman while on his way to receive food orders made online around Bandar Puteri Puchong in Selangor.
However, before he could receive the delivery order, he was stopped by the woman.
"I have been doing food delivery services for three years.
"At the time of the incident, the woman was on the side of the road alone before she suddenly stopped my motorcycle.
"Aunty said to me 'boy, please send it back… my legs hurt because I'm tired of walking, my house is nearby'.
"When she told me, she looked very confident.
"But after she hopped on my motorcycle, she kept telling me to go straight ahead and said that her house number is nine.
"However, she didn't remember the road name or the name of the park…
"When I asked her, she said she didn't remember.
"Only then, I suspect that she was senile," he said, added that he surrendered to fate when he picked up the woman in her 80s without wearing a helmet.
After circling for 20 minutes in several other areas of the surrounding park, Mohammad Khuzaimie decided to pull over to the side of the road and call the police.
He then sent the old woman to the station and gave a statement.
While at the station, the police found a photocopy of the identity card of the old woman's son.
So, the police managed to get a phone number and contact her next of kin.
"I accompanied aunty and waited for her son to come pick her up because I was worried that she would run out of the police station.
"At the same time, aunty looked like she was sitting inside anxiously, so I asked her to wait outside while I chatted with her," he said.
Mohammad Khuzaimie added that he was told that the elderly person often went out of the house and this was the first time she was taken to the police station
"Her 45-year-old son informed me that the aunty always left the house and the family would look for her in the surrounding area.
"He also said that the aunty left because she wanted to find another child," he added.
Speaking further about her experience, Mohammad Khuzaimie said the senior citizen seemed happy to be able to ride a motorcycle.
Earlier, his video was watched by almost 500,000 people after seven hours of being uploaded to the TikTok application.
Netizens who watched praised Mohammad Khuzaimie's actions and concern for helping the elderly involved even though he had not yet received an order, besides being surprised because he was fluent in Mandarin.