Current fueling process
When drivers stop to refuel, they will have to get out of the car to make payment, select fuel type and collect a receipt.
Five proposed fueling process
Find a Five petrol station, drive in, tap on your screen, refuel, then drive off.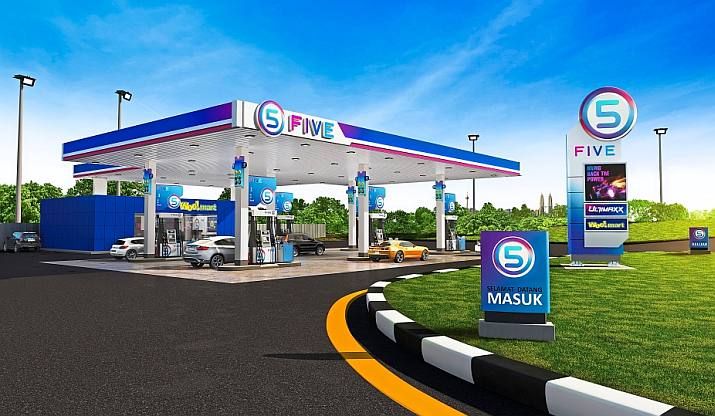 Five is a new petrol company and the second national petrol brand in Malaysia. Part of Seng Group, the company aims to be the leading energy brand in line with the nation's progress.
Five aims to bring change to the oil and gas industry by seamlessly infusing technology into their operations, giving Malaysians greater access, affordability and quality experiences.
On what AI-enabled petrol station would be like, Puan Chan Cheong, group CEO and Managing Director of Green Packet Bhd which launched Kiple, said:
"We are working to geofence cars that are coming into the stations with licence plate recognition.
"As drivers enter the station, the system instantly recognises their cars from a distance by reading their licence plate. Staff on duty gets alerted that a familiar customer has arrived.
"In true drive-through fashion, the driver selects the fuel, pays via ewallet, orders things from the convenience store with the possibility of getting the purchases delivered directly to the car, " he said.
Upon entering a Five petrol station, the vehicle's plate number will be automatically recognised and the driver will be directed to an available fuel pump.
At the pump itself, the system will instantly identify the driver from the pre-filled licence plate in the app and automatically detects the driver's fuel preferences. All payments are then activated within the car.
After refuelling, the app will complete all payment and send the receipt to the driver within the app.
If customer walking in retail store, face recognition will transform the experience of in-store retail, convenience stores and eateries at the station.
Cashless and contactless technology will power every corner of the store. At entrances, AI face recognition thermal scanners will scan every customer, thus detecting any individual with high temperature who will be prohibited from entering.
These terminals may also act as smart displays that provide personalised and relevant information to customers.
Throughout the store, virtual signage enabled through augmented reality, virtual reality hardware and apps serve as "personalised smart assistants" that guide customers on product selection or other enquiries.
Face recognition also powers other services such as a loyalty programmes and membership reward programmes based on their consumption patterns.
Self-serve kiosks will enable a new line of value added services such as pickup points within the station for online orders. Powered by intelligence campaign management and advertising modules, Five and Kiple will be able to profile customers and deliver personalised recommendations to customers based on their interest.
All these are made possible with the Kiple team. Following the success of its We Are Ready campaign to help businesses resume operations seamlessly after the MCO, Green Packet recently launched a followup campaign called #DigitalReady.
Source: The Star