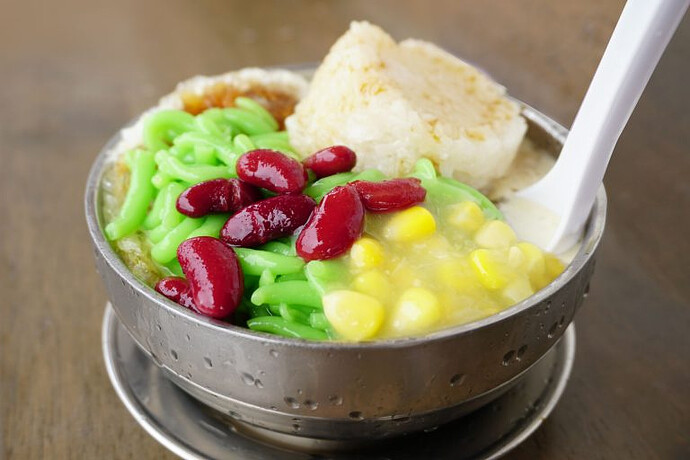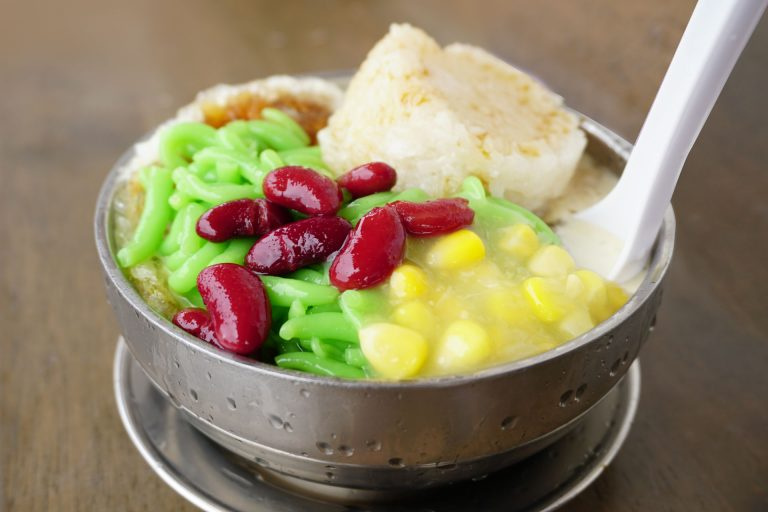 Image credit:
asianinspirations
INGREDIENTS
Cendol
5 tbsp green bean flour
1 tbsp tapioca flour
4 tbsp rice flour
½ tsp salt
2 tbsp sugar
350ml water
A few drops of pandan concentrate
Potato ricer or colander
Palm Sugar Syrup
100g palm sugar
a pinch of salt
2 pandan leaves (knotted)
100ml water
Coconut Milk
2 tbsp white sugar
250ml coconut milk
2 pandan leaves (knotted)
8 cups shaved ice
4 cups ice cubes
Optional Topping
Kidney beans (in a can)
Creamed corn (in a can)
1 cup glutinous rice (steamed)
DIRECTION
For Cendol
Combine all the ingredients and mix well. Cook the mixture on low heat, stirring constantly until batter thickens and turns into translucent green.
Have a big bowl filled with water and ice.
Put a small amount of batter into potato ricer or colander and squeeze into iced water. Repeat until all the batter is used up.
Drain cendol and transfer into container and set aside.
For Palm Sugar Syrup
Place palm sugar, pandan leaves, salt and water, in a small pot and let it simmer until all the palm sugar has dissolved. Remove from heat, discard pandan leaves and set aside.
Do the same with the coconut milk, boil the coconut milk with pandan leaves and salt. once boiled, discard the pandan leaves and set aside to cool.
To Serve
In small bowl, layer the gula melaka first, then pack bowl with crushed ice. Add glutinous rice (optional), coconut milk, and top with creamed corn and kidney beans (optional). Drizzle with more palm sugar syrup and serve immediately.