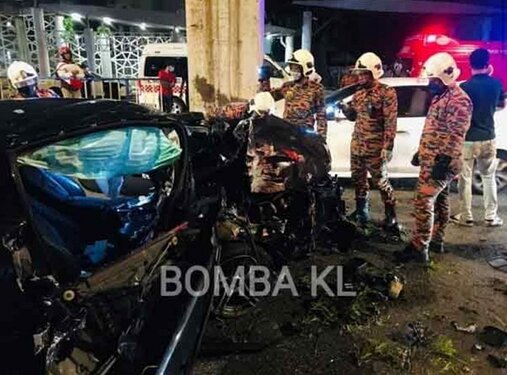 (Kuala Lumpur, 21) BMW car out of control slammed into the monorail track pillar, the Chinese driver died on the spot.
The Kuala Lumpur Fire and Rescue Department issued a notice stating that the authorities received a report from the public at 11:00 last night about a traffic accident in front of the Al-Bukhari Mosque on Bukit Bintang Road leading to Hang Tuah Road in Kuala Lumpur, and immediately dispatched 12 firefighters to the scene to carry out rescue operations.
The report said that the BMW car in question was arriving at the above-mentioned location when it somehow lost control and slammed into the monorail track pillar, causing the 24-year-old Chinese driver to die instantly inside the car.
On the other hand, the report pointed out that after the fire department removed the body of the deceased from the car, it was sent to the police for an anatomical procedures to confirm the cause of death.
Source: Oriental Daily